Once a widely accepted standard had been established, both graphics card and LCD manufacturers began producing compliant product, with many adapters and displays supporting both the new Digital Visual Interface connector and the traditional VGA interface, for maximum versatility. DVI-I – a subset of the DVI standard which stands for DVI Integrated – includes both digital and analogue display signals on the DVI connector so that both analogue CRTs/LCDs as well as wholly digital LCDs can be supported. Because DVI-I allows for both digital and analogue support on graphics cards, users can maintain their analogue compatibility and take advantage of the benefits of digital by using a combination of analogue and digital displays until a complete digital upgrade becomes feasible.
Silicon Image's PanelLink technology – a high-speed serial interface that uses transition minimised differential signalling (TMDS) to send data to the monitor – provides the technical basis for the DVI signal protocol. Since the DFP and VESA Plug and Display interfaces also use PanelLink, DVI can work with these previous interfaces by using adapter cables.
The term transition minimised refers to a reduction in the number of high-to-low and low-to-high swings on a signal. Differential describes the method of transmitting a signal using a pair of complementary signals. The technique produces a transition-controlled DC balanced series of characters from an input sequence of data bytes, selectively inverting long strings of 1s or 0s in order to keep the DC voltage level of the signal centred around a threshold that determines whether the received data bit is a 1 voltage level or a 0 voltage level. The encoding uses logic to minimise the number of transitions, which helps avoid excessive electromagnetic interference (EMI) levels on the cable, thereby increasing the transfer rate and improving accuracy.
The TMDS link architecture consists of a TMDS transmitter that encodes and serially transmits a data stream over the TMDS link to a TMDS receiver. Each link is composed of three data channels for RGB information, each with an associated encoder. During the transmit operation, each encoder produces a single 10-bit TMDS-encoded character from either two bits of control data or eight bits of pixel data, to provide a continuous stream of serialised TMDS characters. The first eight bits are the encoded data; the ninth bit identifies the encoding method; the tenth bit is used for DC balancing. The clock signal provides a TMDS character-rate reference that allows the receiver to produce a bit-rate-sampling clock for the incoming serial data streams.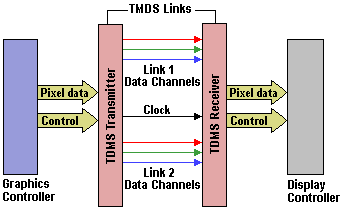 At the downstream end, the TMDS receiver synchronises itself to character boundaries in each of the serial data streams, and then TMDS characters are recovered and decoded. All synchronisation queues for the receiver are contained within the TMDS data stream.
A fundamental principle of physics known as the Copper Barrier limits the amount of data that can be squeezed through a single copper wire. The limit is about a bandwidth of 165MHz, which equates to 165 million pixels per second. The bandwidth of a single-link DVI configuration is therefore capable of handling UXGA (1600×1200 pixels) images at 60Hz. In fact, DVI allows for up to two TMDS links – providing sufficient bandwidth to handle digital displays capable of HDTV (1920×1080), QXGA (2048×1536) resolutions and even higher. The two links share the same clock so that bandwidth can be divided evenly between them. The system enables one or both links, depending on the capabilities of the monitor.
DVI also takes advantage of other features built into existing display standards. For example, provisions are made for both the VESA Display Data Channel (DDC) and Extended Display Identification Data (EDID) specifications, which enable the monitor, graphics adapter, and computer to communicate and automatically configure the system to support the different features available in the monitor.
A new digital interface for displays poses a classic chicken and egg problem. Graphics adapter card manufacturers can't cut the analogue cord to the millions of CRTs already on the desktops, and LCD monitor makers can't commit to a digital interface unless the graphics cards support it. DVI addresses this via two types of connector:
DVI-Digital (DVI-D) – supporting digital displays only
DVI-Integrated (DVI-I) – supporting digital displays backwards compatibility with analogue displays.

The connectors are cleverly designed so that a digital-only device cannot be plugged into an analogue-only device, but both will fit into a connector that supports both types of interfaces. The digital connection uses 24 pins, sufficient for two complete TMDS channels, plus support for the VESA DDC and EDID services. In fact, single-link DVI plug connectors implement only 12 of the 24 pins; dual-link connectors implement all 24 pins. The DVI-D interface is designed for a 12- or 24-pin DVI plug connector from a digital flat panel. The DVI-I interface accommodates a 12- or 24-pin DVI plug connector or a new type of analogue plug connector that uses four additional pins, plus a ground plane plug to maintain a constant impedance for the analogue RGB signals. A DVI-I socket has a plus-shaped hole to accommodate the analogue connection; a DVI-D socket does not. Instead of the standard cylindrical pins found on familiar connectors, the DVI pins are flattened and twisted to create a Low Force Helix (LFH) contact – designed to provide a more reliable and stable link between the cable and the connector.
The following table indicates the compatibility between the principal flat panel display interfaces:
| Connector | DVI-D Receptacle | DVI-I Receptacle | DFP Receptacle | VGA Receptacle |
| --- | --- | --- | --- | --- |
| DVI-D Plug | Yes | Yes | With Adapter | No |
| DVI-I Plug | With Adapter | Yes | With Adapter | With Adapter |
| DFP Plug | With Adapter | With Adapter | Yes | No |
| VGA Plug | No | With Adapter | No | Yes |
By late-2001 DVI had become firmly established and sales of flat panel displays had increased to a level that allowed unit prices to be reduced dramatically. In 1997 the cost of flat panel monitors were about six times the cost of comparably sized CRTs; by the end of 2001 they cost only about twice as much. For many mainstream PC users flat panel displays had at last become a viable alternative to CRT monitors.
Of course, the emergence of a widely adopted pure digital interface also raises concerns about copyright protection. The day is probably not far off when it would be possible for first-run movies to be streamed directly to people's homes and displayed through a PC plugged into an HDTV. However, the potential for pirates to exploit the digital interface to make perfect copies of copyrighted material from both HDTV and DVD signals is obvious. Without some means of protecting its content, Hollywood would likely oppose the distribution of movies in this way.
Intel's response to this impending problem was its proposal of the High-Bandwidth Digital Content Protection (HDCP) encryption specification.