(Advanced Intelligent Tape (AIT) was the first multisourced tape standard targeted at the midrange server market, which is typically characterised by systems that support 2 to 129 users in a commercial environment. Introduced in 1996, AIT was designed to support this key market segment with a combination of exceptional data integrity, speed and capacity. Several breakthroughs make this possible including stronger, thinner media that is more stable and has better coatings than previously available, new head technologies, higher levels of integration and a unique Memory-In-Cassette (MIC) feature. The result is multi-Gbyte, high-performance tape drive systems with very low frequencies of error that are perfect for tape libraries and robotic applications associated with midrange systems backup.
Originally consisting of a 16Kbit erasable electrical programmable read-only memory (EEPROM) chip that is mounted within the data cartridge and includes a five-pin contact connector, the MIC hardware was uprated to a 64Kbit device in 1999. When the data cartridge is inserted, a mating connector within the drive contacts the MIC connector and data is read directly from the MIC. The MIC chip essentially stores all of the information normally found on the first segments of tapes used in other technologies. This includes indices to mark where data files are located on the tape and additional data fields that allow application software to write information that is separate from the tape format. Because the drive firmware estimates how far to fast-forward or rewind, it no longer needs to read individual address ID markers as the tape is moving. As the target zone is approached, the motors slow to pick up the ID markers for fine-positioning. The result is search speeds that are up to 150 times the normal read/write speed of the drive as well as a further level of reliability by having a duplication of key search information.
AIT incorporates IBM's Advanced Lossless Data Compression (ALDC) technology to provide state-of-the-art performance and capacity features. The ALDC compression chip, which was previously only available in mainframe type tape drives, can offer an average data compression ratio of 2.6:1 across multiple data types, compared to 2.0:1 with older IDRC or DLZ compression algorithms. Read-while-write error-correction code (ECC) technology detects and corrects any write anomalies by rewriting the data after the dropout area of the tape has passed, that is, on-the-fly.
AME (Advanced Metal Evaporated) Tape
Data integrity is further ensured through use of AME media technology. Conventional tape technologies use media that is coated with a magnetic material made up of metal particles or oxides of various magnetic strengths. This substance is combined with adhesives to bind the material together before it is applied to a plastic backing. The coating can be applied directly or it can be sprayed onto the backing material and allowed to dry. Media produced in this fashion is subject to contamination of the coating by other chemicals or particles. The result is increased frequency of dropouts and less magnetic density available for recording.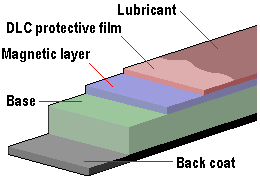 AME tape is processed with a much different approach, using the same technique currently in mass production in the video industry. The tape backing passes through a vacuum chamber that contains vapour. The molecules of this vapour bond to the backing without using any adhesives and therefore actually become part of the backing. A second, very tough diamond like carbon (DLC) coating protects the vapour deposited layer from being scratched from the surface of the backing.
AIT-1 drives originally offered a native capacity of 25GB. This was increased in 1999 to 35GB/90GB native/compressed, and by early 2001 performance had been improved to 4MBps and 10MBps respectively. Before that, AIT-2 had been introduced, fully read and write backward-compatible with AIT-1 and providing 50GB of native capacity per tape (130GB with compression) and a 6MBps sustained native transfer rate (15.6MBps with compression).
The new capacity and performance features were achieved by implementing key technological advances in recording heads, channel coding, media formulation and mechanism design, as well as the development of purpose-built LSI chips. The Sony patented Hyper Metal laminate heads in AIT-2 drives provide higher signal output than conventional heads, thereby enabling a 50% increase in recording density. This higher recording frequency, together with the longer tape and high drum speeds, provide a doubling of both capacity and data transfer rates. The Sony-developed Trellis Coded Partial Response (TCPR) provides the optimal coding for a helical scan high-density recording format, as well as promoting data reliability and reducing tape susceptibility to noise.
The most unique feature of the AIT format remains Sony's innovative Memory-In-Cassette (MIC) drive interface system. In the AIT-2 this consists of a 64Kbit memory chip built into the data cartridge. The data contained on chip includes the tape's system log, search map and other user-definable information, allowing data to be accessed immediately no matter what section of the tape is being accessed. The ability of the MIC to support multiple partitions and multiple load points drastically reduces the average time to access data to fewer than 20 seconds, compared to an average of over 100 seconds for conventional, competing technologies.
A key factor in the capabilities of AIT technology is the use of the extremely durable and field-proven Advanced Metal Evaporated (AME) tape technology, and AIT-2 uses Sony's latest formulation of AME media providing the patented Diamond Like Carbon (DLC) coating with a higher output metalisation layer. The consequent benefits are an extremely long head life and one able to withstand thousands of media uses, in a system capable of providing high density recording in a compact form factor.
In 2001 Sony announced a WORM variation of its AIT-2 technology format, thereby bringing advanced data security to the 3.5in form-factor. The additional security against inadvertent or malicious deletion or alteration of data make the format particularly suited for the archival of financial, securities, government, medical and insurance data.
Later that year the company announced the third generation of its AIT drives and media cartridges. AIT-3 doubled the capacity and performance of the previous generation, offering 100GB of uncompressed capacity (260GB with 2.6:1 compression) and a 12MBps/31.2MBps transfer rates, and offers full read and write backward-compatibility with AIT-1 and AIT-2. At the same time, the company unveiled a development based on a hybrid of technologies. Super-AIT (S-AIT) incorporates the high density features of AIT, such as AME media and helical scan recording, yet uses a 1/2in cartridge. The combination allows a native capacity of up to 500GB on the same size cartridge as is used in the rival DLT and SuperDLT technologies.
Comparison Table of AIT Formats
The following table compares the family of AIT formats, including the S-AIT format:
| | AIT-1 | AIT-2 | AIT-3 | S-AIT |
| --- | --- | --- | --- | --- |
| Native Capacity | 35GB | 50GB | 100GB | 500GB |
| Compressed Capacity | 90GB | 130GB | 260GB | 1.3TB |
| Native DTR | 4MBps | 6MBps | 12MBps | 30MBps |
| Compressed DTR | 10MBps | 15.6MBps | 31.2MBps | 78MBps |
| Form Factor | 3.5in | 3.5in | 3.5in | 5.25in |
| Media Type | 8mm AME | 8mm AME | 8mm AME | 1/2in AME |
| MTBF (hours) | 300,000 | 300,000 | 400,000 | 500,000 |