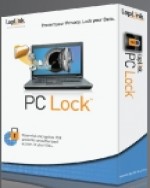 [starreviewmulti id=3 tpl=20]
PROS: The Data Encyption program worked well on the XP computer we tested and was very easy to use.
CONS: As with Any Data Encryption program, you need to remember what password you setup.
OVERVIEW: Overall Laplink appears to have another winner on it's hands. Millions of users have trusted Laplink over the years with their data migration needs. Now it looks like Laplink has brought their PC expertise to the data encryption field.
PC Lock Review
What It Does
Provides data encryption to keep your information private from prying eyes and theft.
Product Details
PC Lock offers 256-bit Advance Encryption Standard. Like most other encryption software programs, PC Lock will encypt the folders and files you want secure. Data encryption programs provide a extra layer of security for one's personal data.
Installation
The installation process is a little more unquie then most other programs. You will be asked to backup all your system files before you start to encrpt them. You will also need to setup a password so you will have access to your files are they are encrypted.
Knowledge Level
Novice = 3 Intermediate = 2 Expert = 1
Technical Support
http://www.laplink.com/help
License Model
Each pc requires a unique license.
Conclusion

Overall we like the PC Lock data encryption program and give it a strong buy rating.