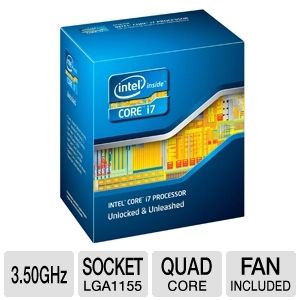 The Core i7 2nd Gen is an example of innovative engineering. Gone are the days when you had to depend on individual plug in cards to avail the features like sound, LAN, modem, etc. Now everything comes as a package with the motherboard as standard. The 2nd generation Core i7 processors have taken a great leap in this direction; the processor now comes with a powerful completely integrated graphic unit. This series of Intel processors is based on the Sandy Bridge architecture and the largest amount of L3 cache memory (which is also known as LLC in the Sandy Bridge Technology) and the highest clock frequency.
This series of Intel's processors is designed to cater to the high end market. They come with some distinguishing features like Discrete Graphics Support (1×16 or 2×8), embedded display port, High BW/low-latency modular core / GFX interconnect, AVX (Advanced Vector Extension), Integrated memory controller 2ch DDR3, Hyper Threading Technology, Turbo Boost and Integrated CPU, MC, Graphics, PCi Express all on a single chip. There is also the option of Intel's anti-theft technology which disables the PC at the hardware level. This helps to prevent misuse of any important data in case of theft of your laptop/PC.
These processors also come with Intel's AES-IN which helps to increase the speed of encryption and decryption. Data can now be encrypted 4x times faster than any of the older PC. The Core i7 2nd Gen processors increased the productivity of the applications up to 60% faster. These are quad core processors which support Hyper Threading technology. The supporting operating system recognizes it as eight core model and only half of the cores are real while the other half is stimulated.
The cache memory of the Intel Core i7 2nd Gen models ranges from 4 MB to 10 MB. The desktop models come with LGA 1155 or LGA 2011 socket, and the mobile models come with BGA 1023 or rPGA 988b sockets. The clock speed start from 1.5 GHz goes up to 3.6 GHz. These processors also come with Turbo Boost technology which can enhance the clock speed as per the work load. The memory type of this series of processor is DDR3- 1066/1333/1600. The visual performance has improved several folds thanks to the presence of Intel HD graphic 3000. The best part is now there is no need of additional graphic card as the HD graphic 3000 is the answer to all your graphic requirements.