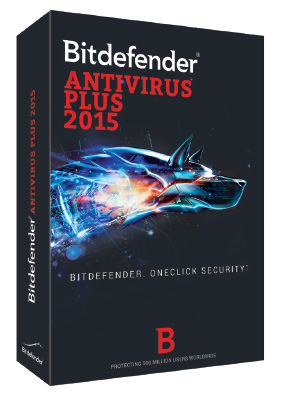 Pros : Has a ton of new useful features over previous versions. One of the best antivirus protection systems around. Offers a secure browsing to protect online shopping and banking experiences. Builds a rescue mode boot partition in case system does get compromised
Cons : There are less expensive alternatives. If you want other features like the firewall, you will need to upgrade to Bitdefender Internet Security
Overview: Bitdefender Antivirus Plus 2015 offers some of the best protection available against viruses and malware. It also has the ability to create profile settings to tweak resourced under different scenarios.
Title : Bitdefender Antivirus Plus 2015
Company:Bitdefender
Supported OS: Windows Vista, 7,8,8.1 and XP (Microsoft has terminated support for XP)
Price: $60 for three PCs or $40 for one.
Overall Rating : 4 Stars
Setup
I downloaded a trial version of the software and installed inside a VirtualBox guest running Windows 7 Pro. It took about 10 minutes to download and install. This may seem like a long install process, but the software scans for issues before it begins the installation. Once the software is installed, you will need to enter an installation key to get to the control panel.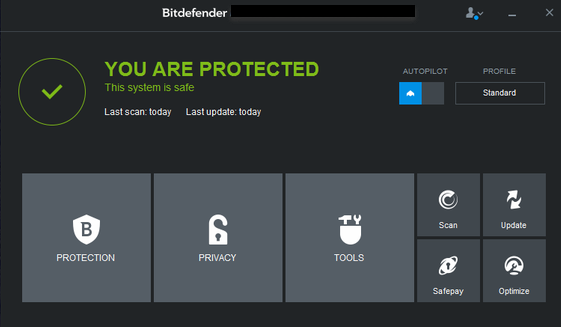 If you have used Bitdefender in the past, then you will notice they have made some changes in the interface. They are using a similar interface to iOS and Windows 8/10 Charms as their interface.
The top of the control panel will show the status of your computer. If you get green, then everything is good and your PC is clean. They also use yellow and red to indicate issues are found with the PC.
Under the message indicator, you will find three large, square icons and 4 smaller square icons. The first three are Protection, Privacy and Tools. The four smaller icons are Scan, Update, Safepay and Optimize.
You will find a smaller icon in the system tray of your computer near the clock when the program is running in the background. The icon will display the computer's status in the system tray. It will correspond with the status colors mentioned earlier.
The layout of the control panel is clean and straight forward. It is pretty simple to move around, and the options are pretty clear.
Features
The antivirus engine is used in all of the Bitdefender products. If you click on the small Scan icon in the image above it will start a quick scan of your computer.
The Protection icon will open a page that will take you to Antivirus, Web Protection and Vulnerability. This is the area where you can launch a quick scan if you want to. But, you can also configure other options. You can run a full scan of the system to do a more exhaustive scan. Or, you can schedule scans to occur on a regular basis.
In addition to these features, you can configure an on-access scanner that will monitor files as you access them. You can also configure an email scanner that will monitor all incoming and outgoing email for suspect attachments.
The Web Protection feature is a feature that will scan the websites you visit. It will act to intercept and warn you for websites that are hosting malware or phishing attacks.
Extra Tools
There is also a useful Rescue Mode tool that will help in a bind. This creates a Linux partition on the hard drive that can be used for recovery purposes. If you encounter an issue, you can boot up in the recovery partition and run Bitdefender in the Linux partition rather than in Windows.
This is a great alternative to other vendors that make you create a boot disk to accomplish something similar.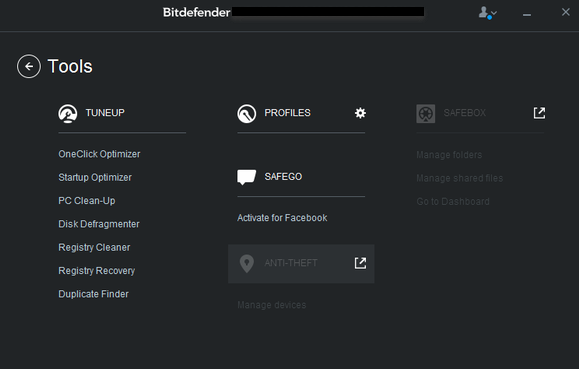 Bitdefender also has a Vulnerability tool that will scan your system for potential patch issues. It will let you know if you system may be susceptible to issues.
Other tools include Data Protection, Wallet and Safepay. Data protection will scan Web traffic for sensitive information that may be sent out unprotected. This will keep items like credit card numbers and social security numbers safe. It also includes a file shredder that will get rid of these files permanently if you choose. Lastly, the password manager can save private information in a central place and help you automatically fill out forms if you choose.
The software also includes a useful feature called Safepay. This is an independent browser that can be used to make purchases online in a safe, secure manner.
The software also comes packages with tools that will help optimize your computer. The Tuneup will optimize the performance of your PC by deleting unwanted files, defragging and speeding up the startup. Safego will help protect you while on Facebook by looking for harmful links and unsafe privacy settings.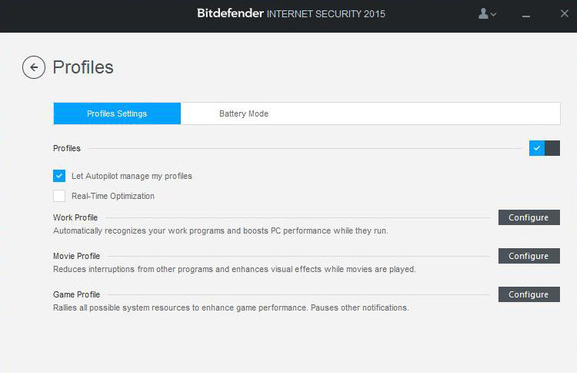 A very handy feature is Profiles. This will let you create different user profiles depending on how you use the computer. Scenarios would include a work computer, or if you are playing games. When you are playing games, for example, you need more processing power so you can change to that profile so the program will protect you while having minimal impact on your gaming.
Performance
At the end of the day the most important ability of this type of software is to catch and stop harmful programs from making their way onto your PC.
The independed organization AV-TEST found that Bitdefender Internet Security 2015 scored 100 percent in detection of malware and zero-day issues. This exceeds the industry averages.
Conclusion
Bitdefender Antivirus Plus 2015 is a contender for the top spot on protection as far as we are concerned. It does a stellar job of protecting your from viruses and malware without hampering your PC too much. And, its flexibility allows you to tailor how it works with how you use your computer. The other features it includes make it powerful software in securing your PC.