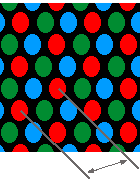 Developed by Hitachi, EDP is the newest mask technology, coming to market in late 1997. This takes a slightly different approach, concentrating more on the phosphor implementation than the shadow mask or aperture grill.
On a typical shadow mask CRT, the phosphor trios are more or less arranged equilaterally, creating triangular groups that are distributed evenly across the inside surface of the tube. Hitachi has reduced the distance between the phosphor dots on the horizontal, creating a dot trio that's more akin to an isosceles triangle. To avoid leaving gaps between the trios, which might reduce the advantages of this arrangement, the dots themselves are elongated, so are oval rather than round.
The main advantage of the EDP design is most noticeable in the representation of fine vertical lines. In conventional CRTs, a line drawn from the top of the screen to the bottom will sometimes zigzag from one dot trio to the next group below, and then back to the one below that. Bringing adjacent horizontal dots closer together reduces this and has an effect on the clarity of all images.