Security Shield 2011 other wise known as just Security Shield is a clone of the past Security Shield malware that came out in 2010. It's also a clone of System Tool. System Tool is considered by many to be the most prevalent malware of 2010. The makers of the fake security client have upped their game making Security Solution 2011 even harder to remove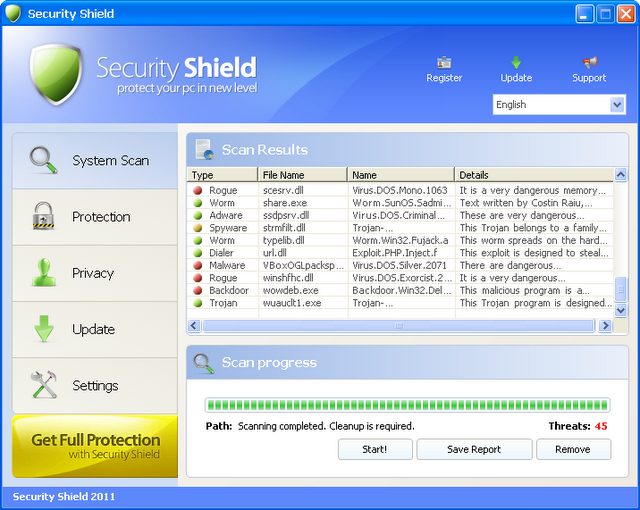 Download Security Shield Removal Software
Tested by PCTechGuide.com to Confirm it does fully remove Security Shield
Simplest Security Shield 2011 Removal Option
Hiring a pro to remove Security Solution 2011 is of course the simplest option, but it's also the most expensive. However you have some very affordable options you may not be aware of. If you have your computer repaired online you can save a bundle and have your computer fixed right away instead of waiting a few days for a computer repair shop. We recommend a company based out of California. They are true experts when it comes to repairing computers remotely and can fully remove this virus as well. Check out this Remote Computer Repair solution
Visit: http://www.pcninja.com to chat live with a expert about your issue
Using Anti-Virus Clients to Remove Security Shield 2011
We tested Spyware Doctor with Antivirus against Security Shield 2011 and it fully removed all traces of this virus.

You may also want to check out our Anti-Virus Reviews page as well as our Internet Security Reviews page.
Manual Security Shield 2011 Removal
Here are the instructions we found that will help you remove this malware threat. Keep in mind the below traces will change and mutate over time.
Step 1. Stop the Security Shield 2011program from running and delete the file
To do this we need to locate were the .exe / executable file is and either re-name it or delete it if we are in safe mode and the program is not running. You can not delete a file while it is in use. So if you are in normal mode you will need to re-name the file first then re-boot your computer and after it starts back up you can delete the file.
Here are the known file location for Security Shield 2011
XP
C:Documents and SettingsAll UsersApplication Data[random]
New Path C:Documents and SettingsUSER NAMELocal SettingsApplication Data
Windows 7 / Windows Vista
C:ProgramData[random characters ][random characters].exe
New Path C:UsersUSER NAMEAppDataLocal
The name of the executable file will always be different. An example would be sdf1sd2fr1g.exe Normally the file name does not make any sense at all.
To aid in locating this threat you can sort files in the above folders by data modified. Chances are you only have a few files that were modified within the last few days and the Security Shield 2011 threat will be one of those. Often times it might even have the icon with the executable for easy identification.
Step 2. Run a full virus scan using Spyware Doctor with Antivirus  to ensure you have no other viruses installed on your computer. If the scan comes up clean you are good to go. If not you can then manually delete any other traces that the client finds. Spyware Doctor with Antivirus can also assist you in removing this malware as well.  Download it Here
If all else fails or you just need expert help right away we can't recommend out this Computer Repair company enough. http://www.pcninja.com