Summer is over and that means it's time for the FAKE antivirus clients to start rolling out.  Yes,  I bet you did not know that as it starts to get cooler outside those virus writers start cranking out malicious code.  If past industry tends hold true we should see a rise in overall fake antivirus programs for the next few months and then after Christmas it will die off till next year.
Today we are looking at the latest Multi-name rogue 2014 from the FakeRean/Braviax family of viruses.
Win 8 Antivirus 2014
XP Protection 2014
Win 8 Protection 2014
Win 7 Antivirus 2014
XP Antivirus 2014
Win 7 Protection 2014
All the above are basically the exact same virus but a different name and slightly different user interface.
Automatic Virus Removal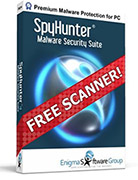 SpyHunter is very user friendly, providing you with a simple interface that will allow you to properly understand the options and functions available. SpyHunter succeeds at both cleaning your already infected computer from viruses and to prevent virus infections in the future. Simply put IT WORKS!

When first installed on the computer this fake antivirus client will run a scan and show you are infected with dozens of horific viruses.  It will prompt you to take action now and fully remove the virus or your computer will be highjacked.  This is all false.  It's a fake scan and fake warning messages.  Some of the messages we saw where
System Hijack!
System security threat was detected. Viruses and/or spyware may be damaging your system now. Prevent infection and data loss or stealing by running a free security scan.
and my personal favorite
Tracking software found!
Your PC activity is being monitored. Possible spyware infection. Your data security may be compromised. Sensitive data can be stolen. Prevent damage now by completing a security scan.
As always we PCTG has your back and we have a few ways for you to fully remove these fake antivirus clients
Option 1.  Purchase an  antivirus client.  You can download what I like called Spyhunter here.  It works to remove these kinds of viruses and will prevent you from getting infected in the future.  If you had a good antivirus in the first place you would not of gotten infected with this virus.
Option 2.  Don't purchase an antivirus client and get infected again with a virus.  However you can still remove this threat for free just by doing a system restore.  It's fast and easy to do.  Hit the windows start button.  Type in "System Restore" with out the quotes and then restore your computer to a date a few days back when the virus was not on the computer.  In almost all cases this will work with this kind of virus threat.
You may need to boot into safe mode to do the system restore but in my testings on a Windows 7 computer I did not have to even do that.  The system restore worked to remove the virus threat I installed for testing purposes.  I then turned my Antivirus client back on and I'm fully protected again.
As mentioned you really need to have an antivirus client installed so you don't have to even worry about getting infected again.  We like Spyhunter which can be downloaded here.
If you need a computer repair expert you can call 1-877-636-285424/7 day or Night.  These people charge a decent enough price.  It's a good way to go if you need your computer fixed fast.  They remote in and before long they will have it all repaired.
Till the next Virus threat take care.