Rewritable DVD-ROM drives, or DVD-RAM, employs phase-change technology with some MO features mixed in rather than the pure optical technology of CD and DVD discs and has its roots in the PD optical disc system. A land groove format allows signals to be recorded on both the grooves formed on the disc and in the lands between the grooves. The grooves and pre-embossed sector headers are moulded into the disc during manufacturing. The first generation of DVD-RAM products – providing 2.6GB of reusable data space on either side of a disc – first appeared in mid-1998. However, these early drives will be incompatible with the higher-capacity standard, which may use a contrast enhancement layer and a thermal buffer layer to achieve higher density. The specification for DVD-RAM version 2.0 – with a capacity of 4.7 billion bytes per side – was published in October 1999. Hitachi reached the 4.7GB capacity by reducing mark size from 0.41/0.43 microns to 0.28/0.30 microns and track pitch from 0.74 microns to 0.59 microns.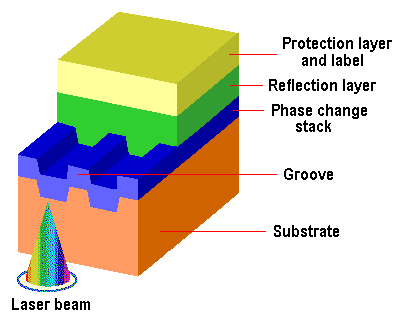 The principal difference between DVD-RAM and ROM is one of compatibility. Single-sided DVD-RAM discs come with or without cartridges. There are two types of cartridges: Type 1 is sealed, Type 2 allows the disc to be removed. Cartridge dimensions are 124.6mm x 135.5mm x 8.0mm. Discs can only be written while in the cartridge. Double-sided DVD-RAM discs, on the other hand, come in Type 2 sealed cartridges only and, as a consequence, could not be read by early DVD-ROM drives. The first DVD-ROM drive capable of reading DVD-RAM media – sometimes informally referred to as a third-generation drive – reached the market in 1999.
Panasonic's SCSI-based first generation LFD101 DVD-RAM drive was capable of writing data to DVD-RAM discs at an average 0.5 MBps and of reading data at between 2 and 3 times this rate. It was also capable of reading DVD-ROM discs at 2-speed and had upped CD-ROM reading performance to 20-speed. The LFD101 allowed DVD-RAM discs to be formatted to either UDF or FAT16 standard and, unsurprisingly given the similarity between the formats, was also capable of handling PD format discs. The main advantage of using UDF is that the full capacity of each side of a DVD-RAM disc can be used, by-passing the 2GB limit imposed by FAT16. One drawback of these early drives was that they would not be able to use the forthcoming double-density DVD-RAM discs.
Hitachi followed, in early 1999, with its GF-1050 DVD-RAM drive. This was also capable of dual-speed DVD-ROM reading but was slower than its Panasonic rival when it came to CD-ROM play back, handling these and CD-R and CD-RW discs at eight-speed in CLV mode.
In mid-2000, Panasonic were again first off the mark with a second generation DVD-RAM drive. This was capable of supporting a full 4.7GB of storage per disc side – reduced to 4.2GB after formatting – the same as a single-layer DVD-ROM. Importantly, this means that DVD-RAM now has sufficient capacity to record a 2-hour high-quality MPEG-2 movie, making it an ideal replacement for videotape. Whilst the quality of a pre-recorded VHS videocassette will start to degrade after being played as little as 20 times, manufacturers claim that DVD-RAM media can be overwritten up to 100,000 times and will maintain data integrity for at least 30 years. In addition to the FAT, FAT32 and UDF1.5 formats, the 4.7GB media can also be formatted to the UDF 2 standard, thereby allowing compatibility with DVD-RAM based VCRs.
In late 2001 Panasonic were once again ahead of the pack, being the first manufacturer to produce a DVD-RAM drive that was also capable of burning DVD-R for General media. Whilst this move – subsequently emulated by other manufacturers – certainly made DVD-RAM drives more attractive, their inability to write to CD-R and CD-RW media still meant that they lacked the versatility of the rival DVD-RW and DVD+RW formats. Although technically feasible – by the addition of another write laser which operated at a different frequency than the one used to write DVD-RAM media – the development of a DVD-RAM drive which will write to CD-R and CD-RW media is unfortunately not viable economically.