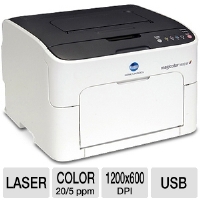 The Konica magicolor 1600W Color laser printer can print 20 b/w pages per minute and 5 color. It has a 1200×600 dpi. The smaller size and price point make this an ideal printer for a home office setup.
The warm up time is relatively short at around 30 seconds and the first print is 12 seconds for color and 11 for b/w. the maximum Duty cycle is 35,000 per month.
This is just a printer and nothing else. It will not scan or copy documents. The other downside would be it's not networkable. It only has a USB port to connect to a single computer. While you can share the printer on a home network it still makes things a hassle if you have a few computers that you want to be able to print on. This is ideal for the at home office worker who will be only printing from one computer.
We did find it on tigerdirect here for only $109.99. The retail price is 229.99 so this is a large discount. Not sure how long this deal will last.
Overall this product has a high 3.6 rating on tigerdirect out of 17 reviews and a 3.7/5 rating on Amazon.
Product Dimensions: 15.6″ x 15.0″ x 10.9″ inches ; 29 lb pounds
Printer Specs:
Print Method: Color Laser
Resolution: 1200 x 600 DPI
Maximum Duty Cycle: 35,000 Pages Per Month
Paper Input: 200 sheets
Paper Output: 100 sheets
Printer Use: plain paper, card stock, paper labels, letter plus and several others
Print Speed: 20 PPM B/W 5 Color
Special Features: USB Only
Final thoughts: For use on a single computer only as it is only USB based. Still for the price this is a very nice printer for everything that you get. Very solid performer and good ratings.