As implied by the name, these drives use a hybrid of magnetic and optical technologies, employing laser to read data on the disk, while additionally needing magnetic field to write data. An MO disk drive is so designed that an inserted disk will be exposed to a magnet on the label side and to the light (laser beam) on the opposite side. The disks, which come in 3.5in and 5.25in formats, have a special alloy layer that has the property of reflecting laser light at slightly different angles depending on which way it's magnetised, and data can be stored on it as north and south magnetic spots, just like on a hard disk.
While a hard disk can be magnetised at any temperature, the magnetic coating used on MO media is designed to be extremely stable at room temperature, making the data unchangeable unless the disc is heated to above a temperature level called the Curie point, usually around 200 degrees centigrade. Instead of heating the whole disc, MO drives use a laser to target and heat specific regions of magnetic particles. This accurate technique enables MO media to pack in a lot more information than other magnetic devices. Once heated the magnetic particles can easily have their direction changed by a magnetic field generated by the read/write head.
The Kerr Effect
Information is read using a less powerful laser, making use of the Kerr Effect, where the polarity of the reflected light is altered depending on the orientation of the magnetic particles.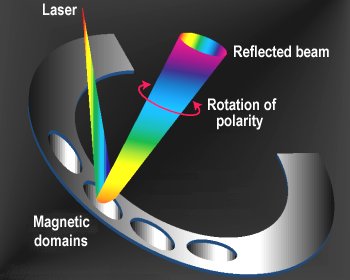 Where the laser/magnetic head hasn't touched the disk, the spot represents a 0, and the spots where the disk has been heated up and magnetically written will be seen as data 1s.
However, this is a two-pass process which, coupled with the tendency for MO heads to be heavy, resulted in early implementations being relatively slow. Nevertheless, MO disks can offer very high capacity and fairly cheap media as well as top archival properties, often being rated with an average life of 30 years – far longer than any magnetic media.
Magneto-optical technology received a massive boost in the spring of 1997 with the launch of Plasmon's DW260 drive which used LIMDOW technology to achieve a much increased level of performance over previous MO drives.