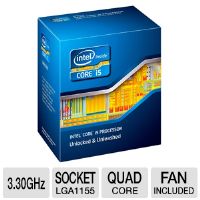 After much waiting and anticipation, Intel finally unveiled the Core i5 3rd Gen processors in April 2012. Based on the Ivy Bridge microarchitecture and the 22nm manufacturing process, these processors offer a huge bundle of exciting enhancements:  improved graphics, more power efficient, wireless display, HD video technology and quick sync engine.
This series of processors are built on Intel's 22 nanometer, trigate manufacturing process. It has 1.4 billion transistors on a 160mm2 die area. The processor delivers stunning graphic performance thanks to the Intel HD 4000 graphics processing unit. The processor has the turbo boost technology but hyper threading technology is missing from the processor. It also has 6 MB L3 cache which is also known as Intel Smart Cache. Let us have a look at the features and the benefits:
VT-x: This is a set of new instructions that helps to improve the software performance for the floating point applications like audio codecs, audio processing and video and images editing applications.
AES Instruction (AES-NII): It speeds up the AES applications and adds hardware acceleration to AES algorithms.
Integrated memory controller: The integrated memory controller delivers superb memory read/write performance efficient lower latency, prefetching algorithms and higher memory bandwidth.
Thermal solution for boxed CPU: It comes with a four- pin connector for fan speed control that helps to minimize the acoustic noise levels generated by running the fan at higher speed for thermal performance.
Intel Virtualization Technology: Enables one hardware platform to function as multiple virtual platforms. This helps to improve the manageability by limiting the downtime and maintaining productivity through isolating computing activities into separate partitions.
Intel recently launched Core i5-T3470 which is a quad core processor that comes with a clock speed of 3.2 GHz. The Turbo frequency can maximum go up to 3.6 GHz and the Smart Cache is 6 MB. The processor has a TDP (Thermal Design Power) is 77W. This Core i5 3rd Gen model is not a K-SKU. In short it means that it is only partially locked. The base clock speed is 100 MHz and the top Turbo frequency is 3.6 GHz. Through overclocking the multiplier can be increased to 40 and the Turbo frequency of 4.0 GHz can be achieved. There is also scope to step up the base clock a bit more to 5-7% more. Overclocking is enabled, which gives the flexibility to set the system specification as per individual preferences.