How to Remove Security Solution 2011
Security Solution 2011 can be a hard threat to remove. This fake security client is related to several other past clients that have come out over the last few years including AntiVirus System 2011, Security Inspector 2010, AntiVirus Studio 2010, Desktop Security 2010, Total PC Defender 2010, Desktop Defender 2010. These thieves basically keep doing the same things over and over to scam users out of money.
Simplest Security Solution 2011 Removal Option
The simplest way to remove Security Solution 2011 is of course the most expensive. You can have an expert come out to remove this threat for you. It's easier and cheaper to just have your computer repaired online and best of all a remote computer repair company can remove the threat right away instead of you waiting days to get your computer back. We recommend http://www.pcninja.com because they are very affordable and we like smaller repair companies.
Using Anti-Virus Clients to Remove Security Solution 2011
The other semi-automated way to remove Security Solution 2011 is to use a well known anti-virus client that works to remove these malware threats. We have done several extensive reviews on dozens of antivirus and security clients on our Anti-Virus Reviews page as well as our Internet Security Reviews page.
Manual Security Solution 2011 Removal
Here are the instructions we found that will help you remove this malware threat. Keep in mind the below traces will change and mutate over time.
How Did I get infected with Security Solution 2011?
There are many different ways that users get infected. The most common one is a tactic that tricks the user into stalling the FAKE anti-virus software. A user may be prompted to update video software or a video codec in order to watch a video. Once the user installs the so called update they are now infected with Security Solution 2011.
Another common way is known as a drive by download were software attempts to automatically install the Security Solution 2011 from a hacked or malicious website. Normally anti-virus software can block these types of infections but for people who are using free security clients they are normally not fully protected and these kinds of threats can get in.
What is Security Solution 2011 Doing to My Computer Right Now?
Security Solution 2011 will block antivirus clients from installing and in many cases make it hard to run any executable. Users may also have System Restore and the Task Manager disabled. According to some of the error messages shown, users are told their personal data and information like bank passwords are being sent out to a third party user. This is NOT true. It's a scare tactic used to trick and scare users into making a purchase of this bogus anti-virus client.
Security Solution 2011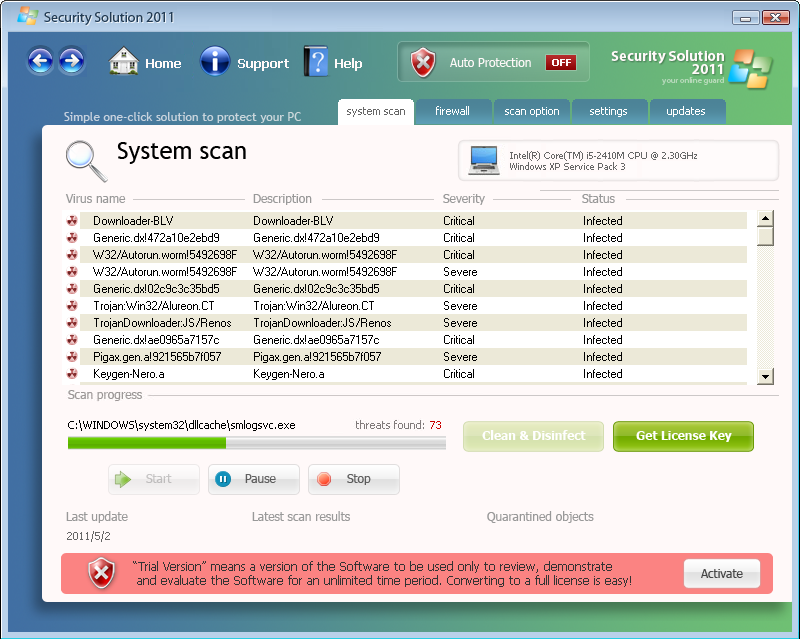 » Download Security Solution 2011 Removal Software
Security Solution 2011 Manual Removal Procedures
The first step you must take in order to remove Security Solution 2011 is to stop the following process. Watch the video for guidance.
Security Solution.exe
securityhelper.exe
securitymanager.exe
[random].exe ( The above names will change over time )
Know File Path Locations
XP
C:Documents and Settings[Username]Application Data[random].exe or SpywareProtection.exe

C:Documents and SettingsYOUR USER NAMEApplicationDataLocalTemp[random].exe or SpywareProtection.exe
Vista / Windows 7: One of the below
c:users[username]AppDatalocal
C:UsersYOUR USER NAMEAppDataLocalTemp
C:Users[Username]AppData
To Stop this process you can
A. Browse to the file location shown below and re-name the file first and then restart your computer. Then browse to that file location again and delete the file. Take note that you can sort the files by date and help rule out most files and folders. Chances are you will only have a few files that appear within the date range you first became infected.
B.  Boot into Safe Mode and delete the file
C:  Use this process explorer tool http://www.removevirus.org/process-killing-software to find the location of the file and re-name it then delete after re-boot.
D:  Log-into another users account and see if you can delete the file.
E:  Start the Task Manager the very second you login and terminate the process that way.
The next step in Security Solution 2011 removal is to delete the following file. You NEED to re-boot your computer first if you re-named the file as you can not remove a file that is running.
KNOWN LOCATIONS OF THIS VIRUS
XP
C:Documents and SettingsAll UsersApplication Data
Vista / Windows 7: One of the below
c:users[username]AppData\Security Solution 2011
C:UsersYOUR USER NAMEAppDataLocalTemp
C:Users[Username]AppData
Once you have deleted the above executable, Security Solution 2011 will no longer be running. At this time you need to run a full virus scan. RUN THE  SCAN!. We recommend Stopzilla. You need to ensure no other viruses are on your computer.  So many people skip this very simple step.  Take an extra few mintues and ensure you have all the viruses removed.
If you find this threat too hard to remove yourself and need an expert we recommend this remote computer repair. They charge far less than others and are great at what they do.
Security Solution 2011 Directories:
XP
C:Documents and SettingsAll UsersApplication Data
Windows 7 / Windows Vista
%AppData%MicrosoftInternet ExplorerQuick LaunchSecurity Solution 2011.lnk
%AppData%Security Solution 2011
%AppData%Security Solution 2011IcoActivate.ico
%AppData%Security Solution 2011IcoHelp.ico
%AppData%Security Solution 2011IcoUninstall.ico
%AppData%Security Solution 2011Security Solution.exe
%AppData%Security Solution 2011securityhelper.exe
%AppData%Security Solution 2011securitymanager.exe
%Temp% ( REMOVE ALL TEMP FILES )
%UserProfile%Start MenuProgramsSecurity Solution 2011.lnk
%StartMenu%ProgramsSecurity Solution 2011
%StartMenu%ProgramsSecurity Solution 2011Activate Security Solution 2011.lnk
%StartMenu%ProgramsSecurity Solution 2011Help Security Solution 2011.lnk
%StartMenu%ProgramsSecurity Solution 2011How to Activate Security Solution 2011.lnk
%StartMenu%ProgramsSecurity Solution 2011Security Solution 2011.lnk