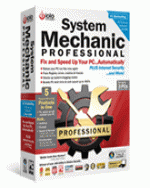 PROS: Windows software utility to keep the PC operating optimally. Additional products included to assist with maintaining performance include anti virus and spyware, Drive Scrubber 3, System Shield 4 and Search and Recover 5. Solid registry cleaning program.
CONS: Comprehensive system tune up utility with spyware and anti virus protection included
OVERVIEW: Bundled antivirus scanner performance may not be as strong as other vendors whose premier offer is virus software
Click the download button below to Download the program and give it a spin.

System Mechanic Pro Review
System Mechanic Pro
Company: Iolo
Supported Operating Systems: Windows XP, Vista, Windows 7, Windows 8, Windows 10
Price: $49.95
What It Does
Assist in keeping Windows installation running efficiently, with added spyware and anti virus protection. Like most Registry Cleaners System Mechanic provides several other features besides just cleaning out the registry.
Product Details
When your car has issues you take it to the shop. For a computer, there are computer stores that will put on their tech overalls and look for the source of the problems. Well, now with System Mechanic 10 Pro, you've bought the mechanic to your desktop or office.
The initial screen provides several choices of getting started with the product. Tutorials will get you off and running quickly. Links to videos, what's new and even other customer tips, news and discounts are presented in the launch screen. This seemed to be more marketing than guidance with product use. Choose to stop the screen and the real benefits appear.
A one button click and the software will look at any and every potential problems : viruses and spyware, security vulnerability, registry, and other system performance areas(temp files, start up configurations, registry problems and the last backup session). Critical issues are present in bold red text.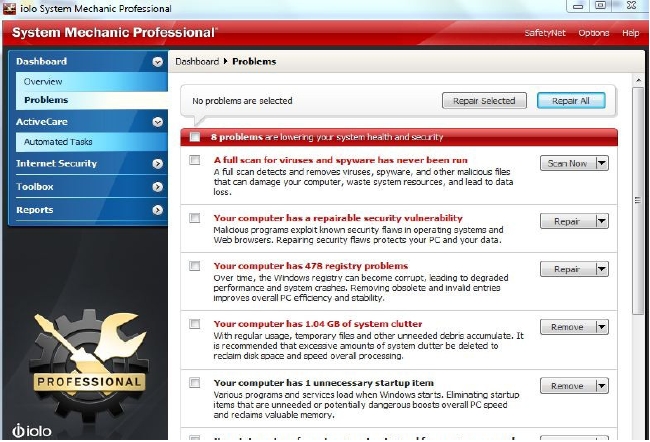 The Registry, the primary repository of all system and program settings can cause a significant effect in performance if unmanaged, or corrupted. System Mechanic offers two options: Immediate fix or Advanced. The Advance option allows the owner to inspect the registry manually and also giving a snapshot of issues found.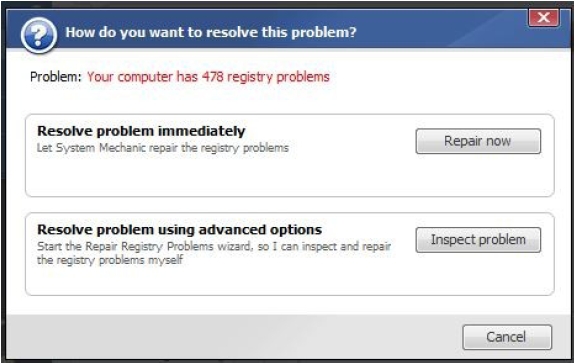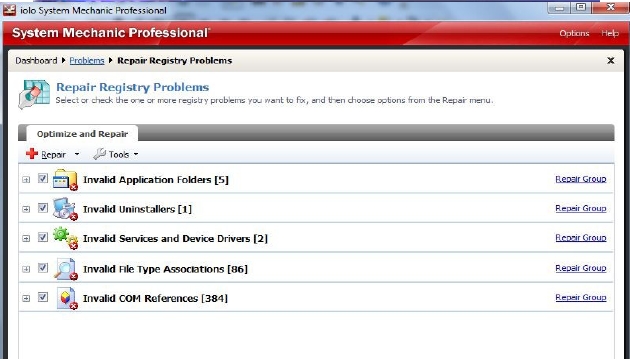 Registry repair are completed very quickly, with a results indicating whether the fix passed(requiring no change), failed the fix, repaired completed or whether the issue was untested.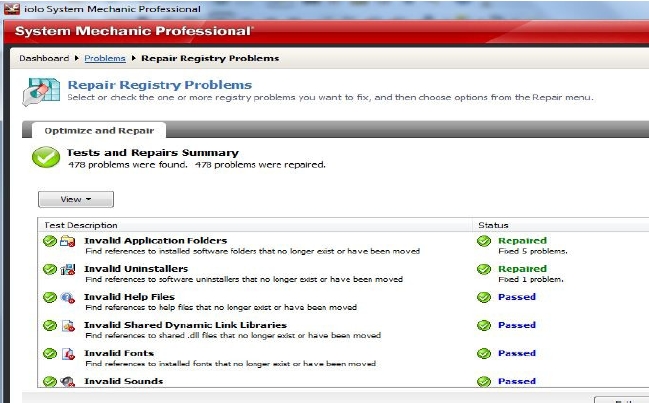 One of the menu options accessible from the Dashboard is called the "Toolbox." I found this to be the most interesting area of the program. Listed here are numerous ways to improve the performance of the PC. Instead of having the software analyze the system, each listed option focuses on a specific area of the operating system to tweak and improve performance. With the Total PC Care Option, there's a list of adjustments that will be made at once. If you're not sure what is needed, this is a safeguard to cover all bases of where problems may be. Advanced PC users familiar with more advanced system issues and configuration will be more interested in the Individual Tools menus. Novices could be confused and unaware of how their selected changes can effect the system.
The first option "PC Accelerator" claims that it's adjustment will improve operating system performance by up to 300%.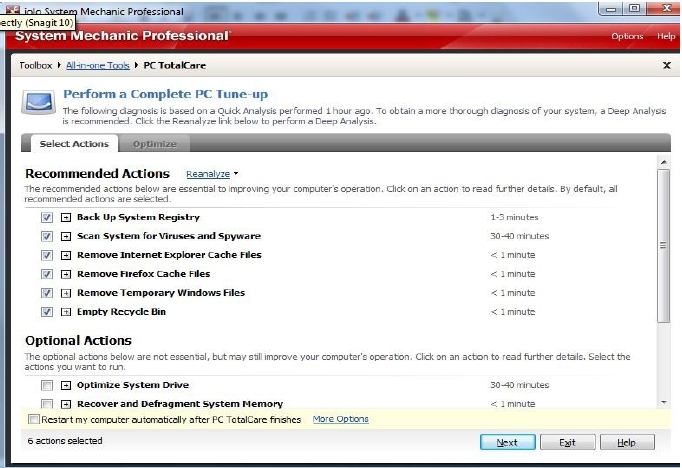 PC Accelerator will break down the critical areas of Windows where various changes will make a huge difference in making the computer work without unwanted crashes and systems errors. Each fix is listed with the amount of time required to complete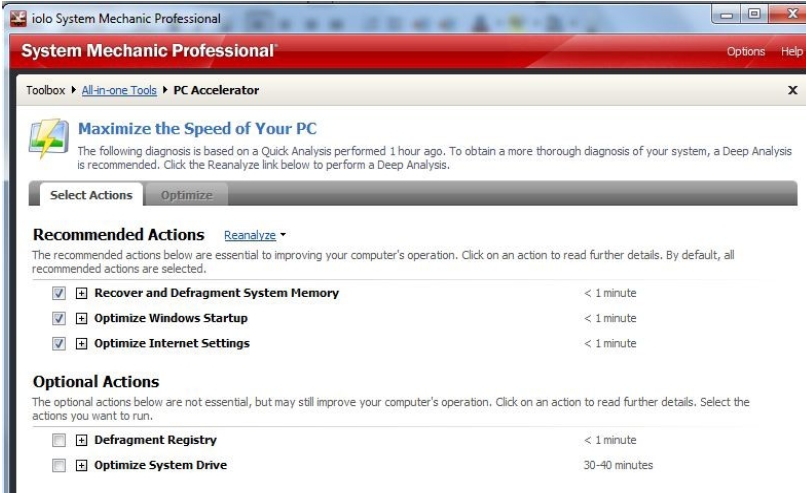 Each action selected was actually executed under 1 minute. Impressive.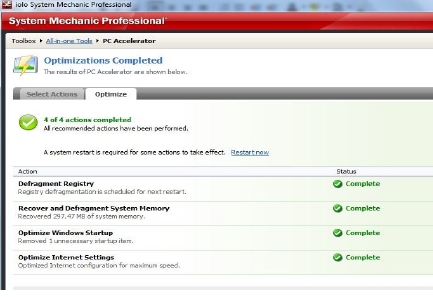 Selecting Clean PC Clutter will get your browser and temp files tuned up.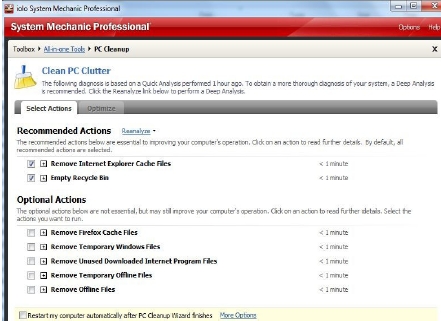 For the expert Windows user, additional tools can be enabled under the Individual Tools menu.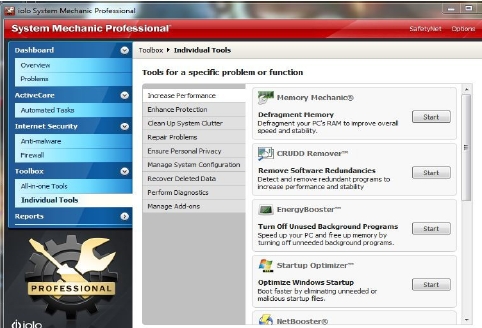 Performance, diagnostics, memory enhancement and even repairs are offered.
Security
System Mechanic Professional will detect operating system holes and other areas of danger, and present the required antivirus repair, or operating system service patch.
Installation
Simple and standard setup.exe
Knowledge Level
Novice = 3 Intermediate = 2 Expert = 1
Technical Support
Using a tab layout, support is available under a tab for Quick answers, Browse for Solutions, and Product Help. Click on the technical support link from the Quick answers tab and the majority of support is offered from hyper links into troubleshooting documents. If non of those help, there is an option to log a help ticket. Support does not provide a specific response time, and their initial communication to your request is via email. There is a support phone number listed under the company's "Contact Us" page but it is not toll
free.
They can be reached by telephone and/or fax between the hours of 8:00 AM and 5:00 PM (Pacific Standard Time), Monday through Friday.
License Model
The price of $49.95 for installation on 1 computer.
Conclusion
Useful and user friendly software. Nice roll back option if any choices made during cause more harm than good. Any of the menu options can be scheduled to run automatically. A very good tool for the PC.