The LPX format is a specialised variant of the Baby-AT used in low profile desktop systems and is a loose specification with a variety of proprietary implementations.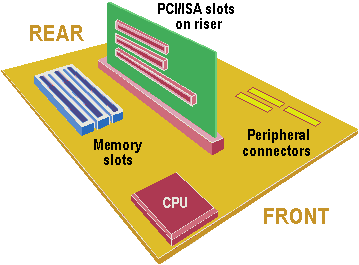 Expansion slots are located on a central riser card, allowing cards to be mounted horizontally. However, this arrangement can make it difficult to remove the motherboard, and the more complex engineering required adds to system costs. As the riser card prevents good airflow within the system case, additional chassis fans are almost always needed.
Used commonly in the early 1990s, the format fell out of favour with the introduction of the Pentium II and AGP graphics cards in 1997. The extra space and cooling required for these components highlighted the LPX's problems, so the form factor was last used in 1998.