All of the displays discussed hitherto – whether they're made of liquid crystal, phosphors or plastic – have one thing in common; they're two-dimensional. However, British start up Reality Vision is in discussion with a number of foreign companies about the further development of its HAD (holographic autostereoscopic display) technology, and expects to bring true 3D holographic screens to the consumer market by 2005.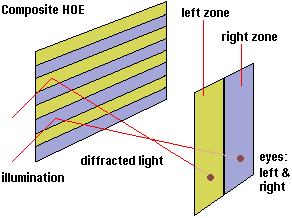 HAD is a simple conversion of LCD technology, replacing the LCD's backlight with an HOE (holographic optical element). This is divided into two sets of horizontal bands that correspond with each eye. The result is that the left eye sees one image and the right eye sees another, thereby achieving a 3D effect.
Since its major application will be to games playing, HAD has been designed to easily facilitate switching between 2D and 3D modes simply by removing or reinstating one of the bands, so that both eyes see the same image. Its principal limitation is that the image can distort if the viewer shifts position. To combat this, Reality Vision has incorporated a system that rotates the screen in sync with the viewer's head movements when the user wears a small tracking device.