Windows 98 Setup now commences its fifth and final phase. During this phase, Setup configures the following:
Control Panel
Programs on the Start menu
Windows Help
MS-DOS program settings
Tuning Up Application Start
Time zone
System Configuration
When Setup finishes setting up hardware and configuring settings, Setup restarts your computer and asks you to log on. If your computer is connected to the network, you may be asked for a domain name and a network password. After you log on, Setup:
Builds a driver information database
Updates system settings
Sets up personalised settings such as settings for the Internet Explorer 4 browsing software, Start menu, Online services, Volume Control, and Channels.
Finally, Setup displays the Welcome to Windows 98 dialog box.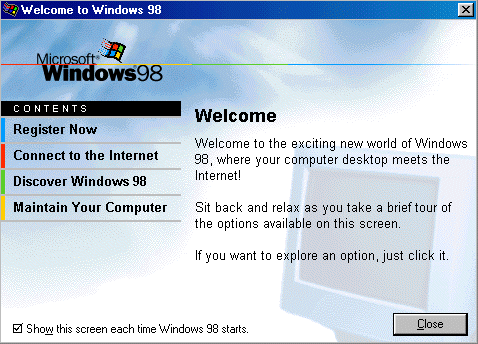 On completion of Windows 98 Setup, your display settings may not be exactly as you want them. Now is an appropriate time to try to adjust them. Right-click anywhere on the desktop and select Properties. The Display Properties dialogue box will be displayed. Provided this indicates that you're using the appropriate graphics card drivers you can carry on and adjust these.
If the indication is that you're using a Windows default driver, then you're going to have to wait until a later stage to set your display preferences, after you've installed an updated driver for your graphics cards and any other items of hardware where this is necessary.
Select the required colour depth and display resolution. You may also select your preferred font size via the Advanced button. Click OK and Windows will resize your desktop as appropriate.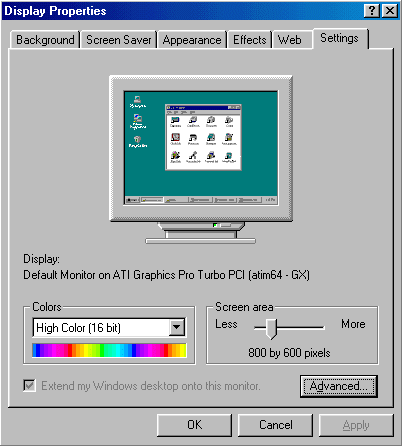 Troubleshooting Windows 98 Setup:
If Setup fails, attempt to restart it using the following procedure:
Press F3 or click the Exit button.

If the system does not respond, restart the computer by pressing CTRL+ALT+DEL. If this fails, turn off the computer, wait 10 seconds, and then turn it on again.

Start Setup again. Setup prompts you to use Safe Recovery to recover the failed installation. Choose the Safe Recovery option, and click the Continue button. Setup will skip the portion that caused the initial failure.
When Setup stalls during hardware detection, you might need to disable hardware detection for a device or class of devices. Before you do this, wait until at least three minutes have passed with neither disk nor screen activity (that is, the mouse pointer cannot be moved). Some detection routines take long enough that the computer might appear to stop temporarily.
A number of common Windows 98 Setup issues are identified below, by Microsoft Knowledge Base Article Number: