The Penryn CPU is another in Intel's line of Core 2 processors and the first fabricated using its 45nm die technology. The processors replace the 'Merom' range of processors, the and dual- and quad-core versions catering for the differing requirements of consumer machines.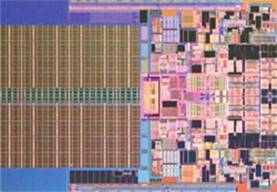 The Penryn is based on the same core architecture as the current Core 2 implementations but fabricated on a smaller 45nm die using Intel's innovative 'high-k' gate dielectrics and metal gate electrodes, meaning increased transistor density, increased transistor switching speed, and reduced power.
Smaller transistor sizes have many benefits, not least of which is they can squeeze more chips out of a single silicon wafer (and more chips = more profit). The main technological benefit here is that more transistors can be squeezed onto the same size chip with the corollary of this being that more processor work can be done in one unit time.
This technology advanced Intel's manufacturing processes significantly ahead of those used in fabrication of the original Core 2 processors. It provided potential to once again start scaling manufacturing sizes down and, most importantly, it represented a massive leap ahead of Intel's competitors.
As an indication of the increased density available to designers, consider this: the Intel Core Quad processors harboured 582 million transistors while Penryn quad-core implementations have 820 million on smaller die. This (massively) increased transistor count is partially explained by the 6MB of level 2 cache per core, 150% of that offered by the original Core 2.
Other advances
The Penryn utilizes a new, faster divider which processes four bits per clock cycle rather than the two processed by Conroe chips. This offers divide operations twice the speed while the speed of square root operations increase four-fold. Such advances, though producing marked overall performance increases, may be limited to very specific applications.
Furthering its bid to reduce the power output of its processors, the Penryn uses a new power-saving mode called Deep Power Down. When the processor enters Deep Power Down it really does go to sleep. Deep sleep. Clock signals are disabled completely, memory caches are turned off, and the voltage is taken down to its absolute minimum.
Another way in which the chip can make the most of the power it is using is in its use of Dynamic clock speeds. In certain sequential processes only one core can be used. In light processes only one is needed. Traditionally both (or all) cores need to be running in order for just the one to continue processing. Predictably this isn't good for power consumption. Intel's Core 2 Duo range introduced the novel concept of sleep states that were core independent, so while one processor was working at 100% effort the other could have a well deserved rest. With the Penryn Intel have gone one step further: if the cores are experiencing differing workloads the underused core will sacrifice its voltage and clock frequency in favour of the one working at full capacity. This means an increase in voltage and clock frequency where it really matters, but without a corresponding increase in power consumption and heat output.
It is not just the hardware changed with this processor, as the Penryn Instructions set SSE4 debuted on this processor. SSE4 adds considerable multimedia power, affording an increase in processing speed of 40% for software utilising the instruction set.