Like the original IBM PC, 1984's IBM PC AT keyboard used a full-size 5-pin DIN connector. IBM's second-generation PS/2 PCs, first released in 1987, introduced a new specification for the keyboard and mouse interfaces, which are still in use today. These PS/2 ports were electronically identical to the long-established AT interface, but the cable connector was changed to a 6-pin mini-DIN interface. An AT keyboard can be plugged into a PS/2 connector via a converter, and vice versa.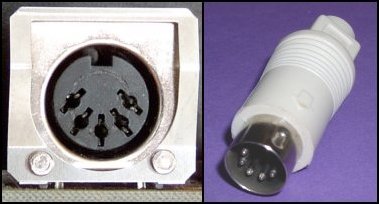 PCs without PS/2 ports generally used RS-232 as the mouse interface, implemented via a 9-pin DE-9 connector. A male DE-9 connector on the back of an IBM-PC compatible computer is typically a serial port connector. IBM introduced the DE-9 connector for RS-232 on PCs with the Personal Computer AT in 1984.
Joysticks were popular throughout the mid-1990s for use with flight-simulator games and interfaced with a PC via a joystick/game port, the traditional connection for video game input devices on an x86-based PCs. From the time of the earliest PCs, game ports were implemented via DB-15 connectors, usually doubling as connectors for MIDI instruments, and typically integrated with a PC I/O or sound card. Later, as motherboards became more highly integrated, a game port was provided as one of several on-board I/O features. Earlier attempts to replace game port based controllers – for example with parallel port, serial port or PS/2 ones – met with little success. However, by the early 2000s it had been largely superseded by USB, which allows for better plug-and-play support.

Early cordless adapters connected to the input devices' serial PS/2 ports. The advent of USB in the late-1990s allowed for more elegant adapter implementations, significantly boosting the popularity of such devices. By 2005, as devices using Bluetooth technology were beginning to emerge, this included Bluetooth-to-USB adapters.