In fact, motherboard manufacturers have made the process of updating your BIOS considerably easier, by providing software that allows this – and more besides – to be done from within Windows.
Gigabyte claims to have been the first off the mark with its BIOS application, first released in mid-2000.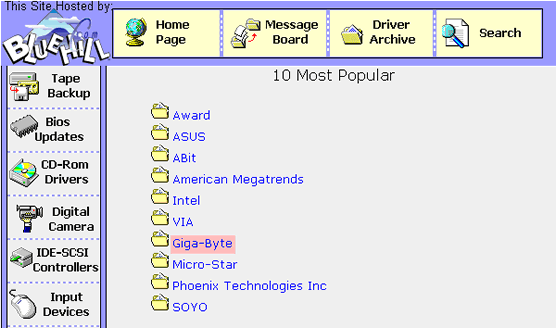 When launched, this automatically detects and displays information about your current motherboard and BIOS.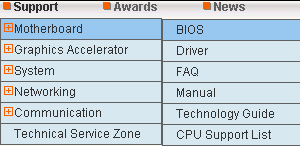 Usefully, it allows you to backup your current BIOS version as well as to update it. This can be saved as a .bin file to a location of your choice.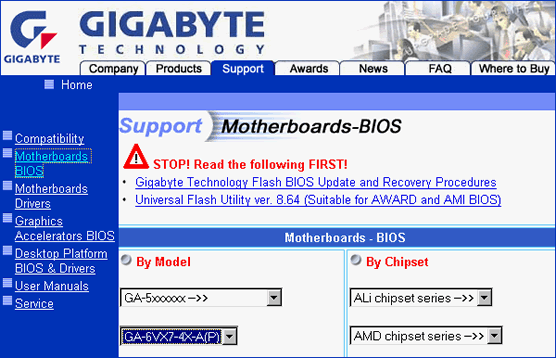 Various links are provided to enable you to go search the Internet for the latest version of your BIOS.

We don't need to use this facility, since we've already located and downloaded the BIOS update. Simply point to where this is stored on your hard drive …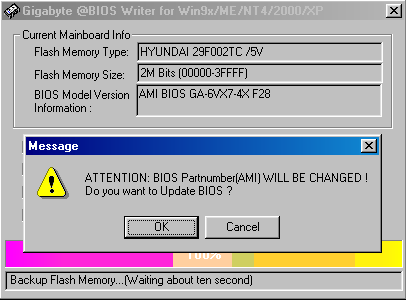 … and click OK when invited to update your BIOS.
Today's most sophisticated live update utilities automatically detect your model of motherboard and its BIOS version and any later version available for download from the manufacturer's site.
A consequence of manufacturers efforts to make BIOS flashing easier is that fewer motherboards are equipped with a Flash BIOS jumper. While this is understandable – it somewhat defeats the object of having a Windows-based flash application if users have delve into the innards of their PC before they can use it – it does have security implications.
The benefits of being able to write-protect your flash BIOS was amply illustrated by the emergence of the CIH virus in the late 1990s. CIH was the first virus to attack a PC's BIOS …… flashable BIOS that is ……. or to be more precise, non write-protected flashable BIOS! The most common variant of the CIH virus overwrote both the first 2048 sectors of a hard disk as well as the BIOS, making it impossible to reboot a system in order to reflash the BIOS!
Motherboard manufacturer Gigabyte perhaps pointed the way ahead with the announcement of it's DualBIOS technology in early 1999. Motherboards with this technology have two physical BIOS chips, so that in the event of the failure of the primary chip – whether as a result of a failed flashing, virus attack or some other catastrophic problem – a secondary BIOS chip automatically takes over on your next system boot.
Expect other motherboard manufacturers to follow suit if, as appears likely, we are now in an age when users are going to be updating their BIOS as often as they do any other item of driver software.