The fact is that a digital camera is a high drain device that uses up batteries at an alarming rate. Turning off the LCD display helps considerably as does running on AC power whenever possible – such as when transferring images to a PC or viewing images on a TV. While digital camera batteries come in all shapes and sizes, the AA format is by far the most common. However, traditional alkaline AA batteries should be relied on only in emergencies. They are simply not strong enough for a power-hungry instrument like a digital camera for more than a few dozen images.
An ordinary AA alkaline battery is typically supposed to have a capacity of 2.4Ah (amp hours). This means it should be able to deliver 1.2A for two hours before going flat. However, whilst this expression of cell capacity is fine for low-current applications – like personal cassette players – its not at all appropriate for a high-current device like digital cameras, which are capable of imposing loads of such magnitude that they can cause a battery's voltage to drop precipitously, with the consequence that its life is greatly reduced.
Rechargeable cells are much better at handling the high output currents required by digital cameras and despite the fact that some types have a notoriously poor shelf life – the length of time they'll hold a charge – they're generally the most cost-effective option in the long run. They come in a variety of types or families:
Nickel cadmium (NiCd): Probably the most robust and commonly available rechargeable battery. Good for on average 700 charge and discharge cycles, they lose about 1% of their power a day when not in use and suffer badly from memory effect – the accumulation of gas bubbles on the cell plates of a battery that has only been partially discharged before recharging, which causes a reduction in the plate area within the battery and thus its capacity.
Nickel metal hydride (NiMH): Good for between 500-1000 charge and discharge cycles, NiMH batteries offer about 40% more capacity than NiCDs but at a significantly higher cost. They have a slightly worse shelf-life than NiCds but, in the main, have the important advantage of not being prone to memory effect.
Lithium ion (Li-ion): Li-ion batteries offer about twice the capacity of a similarly sized NiMH battery and are good for about 500 charge and discharge cycles. However, they require their own special charger and are more expensive than other battery types. Their big advantage is a long shelf life: up to ten years. For that reason, they make great emergency spares.
Zinc-air batteries have been around for decades and have found practical use in hearing aids and pagers where their light weight and high energy density have enabled them to dominate the market for a number of years. In recent years electrical and mechanical enhancements have allowed the technology to be adapted for use in portable electronic systems.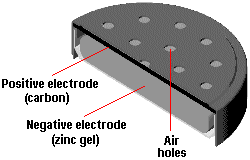 Zinc-air battery cells are chemically similar to the everyday alkaline battery. However, in place of the magnesium dioxide paste used by the former is a thin carbon electrode used to catalyse oxygen from air for reaction with zinc. This significantly increases the energy density, giving zinc-air one of the highest energy densities for conventional battery systems.
By the early 2000s disposable zinc-air batteries had emerged as an increasingly popular back-up or emergency power source in digital photography, compatible with more than 50 digital camera models. They offered a long shelf life and sufficient power for several hours of continuous use. Packaging typically included a recloseable foil pouch that allowed the user to extend battery life after initial use, a built-in belt clip for easy carrying and a cord that allowed connection through a camera's DC jack.