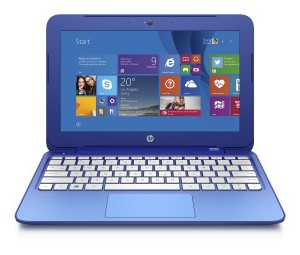 Microsoft probably has now found the contender with Hewlett Packard's frontliner HP Stream 11 against Google's Chromebooks in the cheap netbook department. For the budget conscious, they may want to take a good look at this inexpensive piece of a contender. If you only need is to access the web, check your mails or indulge to social media or maybe wants to enjoy video and stream music, the HP Stream 11 can give you all that inspite of its much affordable price of $199. So who needs a Chromebook if you can have a cheap HP that is very much MSOffice compatible.
So what are the specs that we are looking at here? This laptop is actually cloud-friendly like the Chromebook. It has an 11.6 inch screen capitalizing in Intel HD graphics, Intel Celeron N2840 processor, 2 GB DDR3L SDRAM, 32 GB Solid-State Drive and a warranted one year 1TB OneDrive Cloud Storage. With a Windows 8.1 OS and an impressive 8.25 hours battery life, many are impressed with this basic but happy to be around little gadget. For a bonus it also includes $25 Microsoft App Store Credit and Personal Office 365 for 1 year which actually cost around $75.
Compared this to Chromebooks which also makes some of the functional budget laptops in the market, the HP Stream 11 is very much comparable but more on the practical budget side. On the one hand, we should not expect that this basic laptop should be perfect in many aspects. For example, it has a minimal resolution of 1366 x 768 pixels. Though the 2.16 GHz Intel Celeron and a RAM of 2 GB DDR3L is already enough for the decent web browsers, some people think the HP Stream 11 is still too slow if you are used to bigger laptops.
Here we show you some of its significant specs:
• Operating System – Windows 8.1 (64-bit)
• Display size – 11.6 inches
• Graphics – 64MB Intel HD Graphics
• Storage – 32 GB SSD
• Networking – 802.1 lb/g/n wireless, Bluetooth 4.0
• Weight – 2.8 pounds
• Dimension – 8.10" long x 11.81" wide x 0.78" tall
• Processor – Intel Celeron N2840 2.16 GHz
• Audio-Out Port – 1
• Battery Type – Lithium Ion
• Internal Fan – None
• Video – HDMI
• Audio – Stereo speakers, combo headphone/mic jack
• Data – 1 USB 3.0, 1 USB 2.0, SD card reader
Good Features Based From Reviews:
• Plastic shell is fingerprint resistant.
• An SD card can be used for extra storage.
• Can be installed Windows apps like Office programs, Photo editing software or iTunes.
• Battery tested can run for more than eight hours straight in continuous browsing which surpasses other low budget laptops.
• Won't overheat even without fan because of low-power platform.
• Keyboard is larger than ordinary notebooks with decent spaces for comfortable typing.
• Reliable with MSWord, Excel and emailing.
• Audio is loud and clear courtesy of DTS Studio Sound technology
Downsides:
• Very slow compared to other branded budget laptops when it comes to multi-tasking.
• Not ideal for storing large files or complicated applications.
• Very basic display
• Not touchscreen
In conclusion, the HP Stream 11 can be your ideal netbook if what you need is for basic use. It can also be your model carry-around device for simple browsing tasks although you don't have to expect it would be as speedy as your ordinary laptop. With its plain but positive features that outpace the downbeat sides, this is not a bad netbook in its class but a better one and very usable. For $199, this would not fail our expectations and Microsoft should be happy as some people branded now the HP Stream 11 as the Chromebook killer.