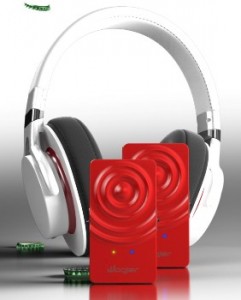 A lot of people have heard about the Woojer though they thought it was meant "woofer". More so, this is where the woojer derived its name, from the word "subwoofer".
So what's so special about the Woojer with its diminutive size that's only slightly bigger than a matchbox? Well, you won't believe this can make your world rock and feel the tremble once you wear it.
The Woojer as described by its makers is a "polyphonic transducer that converts sounds into inaudible physical vibrations". Translation: This device simply converts sounds from your digital device into vibrations so any loud sounds you hear on your headphones or headsets traversed through the woojer and let you feel the vibrations throughout your body.
Once you wear the woojer and turns it on you can feel the quivering sensations just like when watching loud live concerts or when in cinemas with the large woofers blasting around you during hard actions. The thing is, you won't hear any sounds coming from it but only feel the waves of trembling sensations. So even your body and nerves feel the blasting rhythm you don't disturb anyone near you. So where is woojer best use for?
Blast by the Woojer
There are so many incredible gigs you can use with the woojer, a powered dj subwoofer like no other. It can make your gaming experience truly real-like especially when you are playing RPGs (role playing games) and it can make you feel you are really there on scene. You blast a tank and it explodes and you feel the resonance of the blast in your body.
If you are watching an action-packed movie on your laptop or tablet and even at the comfort of a smart tv bed I purchased from the TV Bed Store, the exploding sensation you feel will be the same when watching an action-packed movie in a cinema. That's what it is. And of course, the woojer is also best in listening decent sounds to rock metal music and can feel the rhythm of the bass, drums, trebles and all that make the undulating frequencies right where you want it. So literally the woojer will make your audio and video experience not only feasible to your eyes and ears but also right in your body and that completes the experience.
Bits of Juice About It
The woojer's size is around the dimension of a matchbox but only thicker (68mm x 41 mm x 23 mm). It only weighs 73 grams and it will work with any audio device as long as it has 3.5mm jack on it. You plug your headset's audio jack into its jack and plug your audio source to the other jack and you're ready to rock. Any game consoles, cellphones or any music player you can think of as long as it has 3.5mm headphone jack on it and you'll enjoy the woojer.
The woojer is basically a wearable mobile polyphonic vibrating accessory and best to wear on the part of your body where vibrations can best be felt like your chest and on your back right on the sternum part. These parts of the body absorb the frequency waves better so the resonance is more felt. You can actually use two woojers – one on the chest and on the sternum and that doubles the shudders.
This simple but energy-releasing device was actually developed in 2011 by a small tech company based in Israel using only $600,000 as the initial budget startup. To raise funds and continue production, it started the Kickstarter campaign allowing everyone to donate until rich individuals got in and helped the project survive provided that the woojer would also benefit the hearing-impaired groups. The campaign was successful and now, the woojer is having a promising business opportunity while we all want to have it.
This small gadget needs only to be clipped on your clothing and let it rest on your body. It comes with a lanyard, a belt clip and a detachable magnet to let it stick in any type of clothing. Powered by rechargeable Lithium battery like your cellphone's it promises continuous use for 3 hours. If you would like to know this unbelievable tool better visit woojer website.