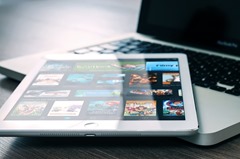 The new iOS for the iPad is coming soon. This new OS will contain several updates and changes to the iOS that many people have been waiting for with anticipation. It is coming soon to all of Apple's mobile devices, but the changes that are on tap will benefit the iPad a great deal. Here are a few changes to look forward to.
Design changes
There's a minor change in the typography, where Apple has replaced the 'Helvetica Neue' system font with a font called 'San Francisco'. Apple also deploys its typography in a clearer way, with more space around the lettering. Although these are subtle changes, the new font should be easier to read as well as remaining easy on the eye.
Interface changes
Following complaints from users, Apple has made a small modification to its ambiguous Shift key system. The former version is hard to use, since only a change in the Shift key's color indicated the letter's case change – when it's on, it looks off and when it's off, it looks on. When you press the new Shift key, however, all the letters on the screen will change to uppercase. This will put an end to the frustration at having to delete letters because you mistakenly type an uppercase letter instead of a lowercase one, and vice versa.
The new features
Apple has revealed a number of new features in the WWDC, and has released a public beta of iOS 9 for developers to test drive its capabilities. Here are some of the new features that Apple users can benefit from.
Split View – This long-awaited feature is exclusively available on iPads. iOS 9 finally allows two applications to coexist on one display, making multitasking possible. You can activate Split View simply by swiping inwards from the right hand side, and you'll be offered a range of apps that can run in the activated sidebar. You can have your email stay on the side while you browse for information in Safari, or catch up on the latest news. The possibilities are endless!
Picture in Picture – While using a live video chat or watching a video, you can press the Home button to activate this feature and scale down your video screen to a corner of your display. You can now chat with your friends or watch your favorite shows while you reply to emails. What's more, you can move the video screen to wherever you prefer with a swipe, adjust the size by pinching, and close the screen by tapping the close button.
On-screen Trackpad – The default keyboard that pops up when you type on-screen is now equipped with an extra function. Now you can hold two fingers down on the keyboard to turn it into a trackpad, which allows you to easily navigate through the text without having to tap the exact spot on the screen. This makes document navigation much faster, especially when writing or replying to emails.
News app – This fresh addition will draw news stories from various sources that you can choose, from Daily Mail to Bloomberg Business, CNN, The New York Times, and more. The News app is intelligent; it is able to learn about your interests based on what you are reading, and will show you articles from sources you didn't select if they match your interests. So basically, the more you read, the more personalized your news becomes.
When will it be available?
For Apple fans, and especially iPad users, the new features alone in iOS 9 are worth waiting for. The first public beta testing version of iOS 9 is available now, and Apple will most likely release the final version of the software in September 2015.