DIVX is essentially a limited-use, pay-per-view DVD technology. Marketed as a more affordable DVD format – with the financial backing of the Circuit City Stores retail chain – it allows a user to purchase a DIVX disc at a minimal cost and view its contents for an unlimited number of times within a 48-hour period. Once the 48 hours are up, the user is charged for each additional use – DIVX machines having a built-in modem which it uses to automatically call the central billing server to report player usage roughly twice a month. Users have the option to purchase the right to unlimited viewing – for a sum equivalent to the cost of a DVD-Video disc. Given that a DIVX player is basically a DVD-Video player with additional features to enable a pay-per-view mode of operation, it not surprising that it's capable of playing standard DVD-Video discs. Obviously a standard DVD player will not allow viewing of a DIVX disc.
In addition to the built-in modem the typical DIVX player also contains decrypting circuitry, in order to read the DIVX discs which are encoded with a state-of-the-art algorithm [Triple-DES]. Also the player is able to read a unique serial number off the disc which is recorded on an area of the DIVX disc known as the Burst Cutting Area (BCA), located in the inner most region of the disc. Annex K of Part 1 of the DVD Specification defines the BCA for a DVD. Essentially, this can be used to record up to 188 bytes of data after the disc has been manufactured. DIVX uses this number to keep track of the viewing period.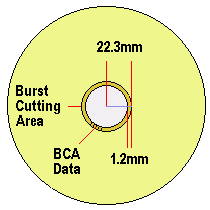 Despite some consumers balking at the idea of having two different standards for digital discs, and others objecting to the idea that they would have to keep paying for something they had already purchased, DIVX appeared to be gaining acceptance amongst consumers – with sales of the enhanced players reportedly matching those of standard DVD units – when its backers pulled the plug on the format in mid-1999, blaming inadequate support from studios and other retailers for the format's demise. Its fate was effectively sealed once companies – including US retail chain Blockbuster – announced plans to rent DVDs to consumers instead of DIVX discs.
It might not have lasted long, but its likely that DIVX played a useful role in creating a viable rental market – essential for DVD-Video to become as popular as VHS. Furthermore, one of its features – the use of the BCA – offers some interesting possibilities future distribution of software on DVD-ROM discs. For example, it could mean an end to the rigmarole of consumers having to manually enter a long string of characters, representing a product's serial number, during software installation. A unique vendor ID, product ID, and serial number can be stored as BCA data, and automatically read back during the software installation process. Storing a product's serial number as BCA data could also confer important ant-pirating benefits – making it almost impossible to install a software product without possessing an authentic copy of the disc.