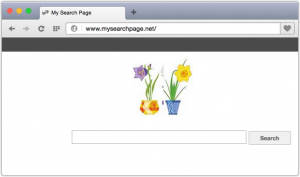 MySearchPage.net virus is now popular not because it is one of today's revolutionary search engine varieties but because this is one browser people get scared from whenever they see this running on their computers. This fake and nasty search engine is actually a browser hijacker so what it does is it occupies the space of your real browser and redirects your search to many sites that can be anomalous and full of threats.
What It Does
We must understand that browser hijackers are created by cyber criminals to gain money from various sites through Pay-Per-Click (PPC) views, affiliations and commissions starting off by gaining access to your computer, takes control of your DNS settings and redirecting you to anomalous sites.
The MySearchpage.net is no different. You will be led to gambling sites, affiliate sites, product marketing sites, freeware sites, porn sites or any other sites that encourage you to check, participate or play and eventually become a member and pay using your credit card number which is the worse part. Downloading the offered freeware, you can get infections from the likes of Trojans, adware, spyware, keyloggers, rootkits and you name it, it's a free world for a variety of hazardous programs to enter your computer system through the MysearchPage.net pathway.
How Did It Get There?
The MySearchPage.net is a malware/virus that comes in bundle along with free PC games, PDF creators, video recording software, download managers and other programs that have executable files in them. Creators of such malware use different style on how to infect computers through downloads. Some are disguising their malware making them appear as legitimate part of the bundled program but are actually bad executable files. They do masking by renaming their malwares a bit similar to the freeware's files.
Other scammers do hide their malware's executable files deep within the free program's plug-ins and extension so once you activate your downloaded program, infection begins. This is why even you have an efficient anti-virus program installed and your Firewall is active, the MySearchpage.net can have access because you primarily downloaded and activated an infective carrier program and let the whole thing operates within your computer's system.
Will Uninstalling Be Enough?
Most browser hijackers have the character of being stubborn and arrogant like some people. Even you take them out or uninstall them, they won't go away completely. Some of their remnants would still be there and act like independent programs. Your browser may or may not stay as it is but you will still have the annoying pop-ups. Your email server will still be bombarded with a lot of spam ads that usually go right into your Inbox and not on your Spam Mail box. That's how arrogant the browser hijackers are.
Even it won't be your browser alright, it will still be running on the background and do its thing until your computer gets really slow due to heavy infection from many types of viruses. When your computer can't take it no longer it can give up. Your system can crash and can't be able to open your computer anymore. Frankly, you don't want this to happen to your computer but would you let yourself be defeated only by a persistent malware? Of course not!
Best Solutions
For the best solution to your problem, do what most people do, install SpyHunter into your system and that's the end of your problem. This anti-virus program can really be your reliable malware hunter especially when your virus protection program doesn't work against the stealthy malwares. It will completely scan your system including your installed programs and files and find all types of malicious pieces that have been hiding and running among the extensions, plug-ins, add-ons and files.
It will also create a complete detail of the potential risks and you have the choice in deleting each. You can also allow and block processes while allowing you to have complete control of your computer's DNS settings. There's also the customer support personnel in case you want a real-time quick fix using the program.
Your files are safe with SpyHunter. But if you want to make sure you make everything intact you have an option to back-up all your files.
You can also try System Restore which all Windows-based OS have. System Restore lets you restore the previous state of your computer to its clean condition. So if you have downloaded an infected software and activate it, the better thing to do is restoring your computer to its previous state prior to your downloading stage.
The process is pretty basic. Click the Start button on the bottom left side of your computer and type system restore. Allow the system restore to run and select the date. Reboot your computer after the process is completed. For complete guidance check our System Restore guide.
Moreover, the System Restore is only a temporary relief from the odds if you want to enjoy getting free software. You still need an efficient guard protection that can eliminate any types of malware that can sneakily enter your computer and manipulate your configurations. And as have been said, the SpyHunter is best reliable in this aspect.