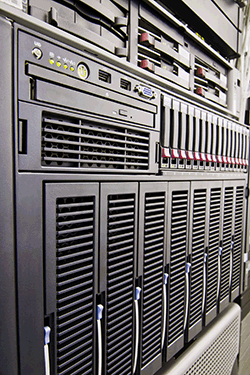 When have a variety of digital music and movies or you have a business running, storing the data from different computers is not complicated anymore with NAS or the Network Attached Storage. This is a self-contained computer device can be used as a file server and backup storage for several  computers throughout  a small network.
NAS is a shared storage for multiple computers (Macs or PCs) you can easily access data while you're in the same room with the network or securely when you are travelling (over the internet).
NAS devices have the capability to store and get the files you need for a central and safe location. Backing up the information on your computer at home or at work and accessing them using each computer is possible. At the same time you can share the printer by means of NAS. Sharing printers with the use of NAS, or using media streaming to  gaming consoles and those smart TVs are compatible.
The OS (operating system) of NAS is just simple and do a few things, however, it can handle the tasks well efficiently and securely when you connect the computer in it. Setting NAS is also easy, its system is flexible for stream media even to connect those different computer peripherals to share.
NAS for Home
With NAS, creating a centralized media library at home where you can watch or listen anywhere is easy. Loading those collections of movies, photos, digital music and video into the system of NAS, then you can stream it anywhere at home while on another computer or with the right media player. You can also access the media remotely using your tablet or phone through WIFI or with the internet connection.
NAS for Small Business
In case your business doesn't need too much computer system and technical backups for the sensitive data,  then you can connect all your office computers to the NAS system for regular backups. At the same time, the data you store is downloadable from NAS, even if you're on the travel (for as long as you have internet access and mobile device).
NAS is a good idea to save all your files and data into when you need to backup more than a computer's memory can handle.