Smart Fortress 2012
Smart Fortress 2012 is a malware client. In plain terms it's a virus that attempts to trick the end user that it's a real antivirus client. It will show false scan results to scare and trick the user into making a purchase of the virus. DO NOT purchase this client as it's a scam and they are only out to steal your money
How Did I get infected with Smart Fortress 2012?
Malware like this spreads in many different ways. Computers that do not have proper antivirus protection can be infected just by visiting a website. Other times the computer user may be tricked into installing the program thinking it's something else like a video or security update. There are many ways that malware clients get installed on a computer. It could be from something as simple as using a search engine and looking for an image like a Bald Eagle or the Liberty Bell for a school report.
How Much Damage is Smart Fortress 2012 Doing?
The good news out of all of this is from our testing we do not see this malware doing anything to effect your privacy or personal information as well as files on your computer. It will block other programs from running so you most likely will not be able to fully use your computer until you remove Smart Fortress 2012
Some common FAKE errors you may see are:
Smart Fortress 2012 Warning
Your PC is infected with dangerous viruses. Activate antivirus protection to prevent data loss and avoid the theft of your credit card details.
Click here to activate protection.
Smart Fortress 2012 Warning
Intercepting programs that may compromise your private and harm your system have been detected on your PC.
Click here to remove them immediately with Smart Fortress 2012.
Warning: Your computer is infected
Windows has detected spyware infection!
Click this message to install the last update of Windows security software…
Smart Fortress 2012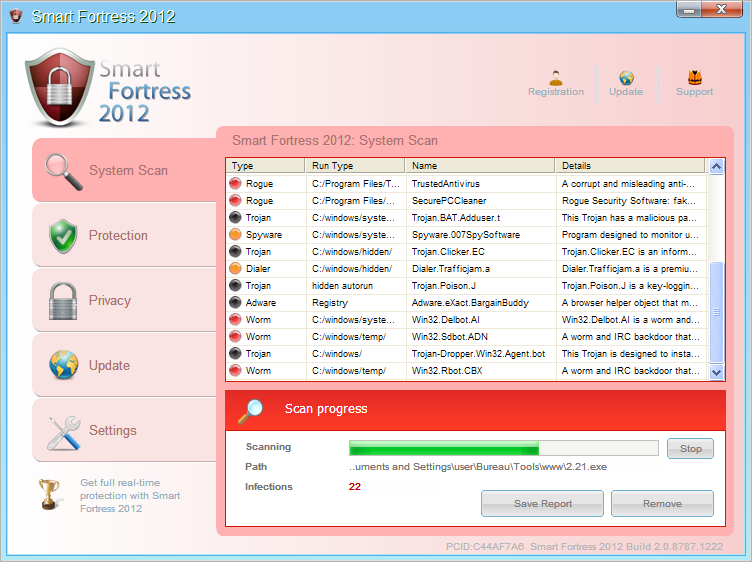 » Download Smart Fortress 2012 Removal Software
How to Remove Smart Fortress 2012?
Our Smart Fortress 2012 guide below works to manually remove this virus. If you run into issues you can always post a comment asking for help. If you feel better having an expert remove this virus for you then go to pcninja.com.
Automatic Smart Fortress 2012 Removal

Online Smart Fortress 2012 Removal Service

Smart Fortress 2012 Manual Removal Procedures
Step 1. If you are unable to connect to the internet, you need to open Internet Options inside control panel. Click the tab that says connections and then the button that says LAN settings. This will open another window, make sure all the boxes here are unchecked–this will remove the proxy server.
Step 2. Stop Smart Security from running
[random].exe ( Example is eAaEmPkGdEd01804.exe ) Your file trace will be named different.
The whole goal is to stop this single .exe file trace from running. The name will always change and be different on each computer. However there are ways to help you find out what the name is.
Browse to the folder paths below: Once in the directoy folder sort the files by the date. From there you should only have 1-3 folders or files that fit within the days you were infected. Now look at the folder names. The one that makes no sense at all is the virus folder. Open the folder and re-name the files in that folder. You can not delete a file while it is in use so you will need to just re-name them and then re-boot your computer.
Windows XP:
C:\Documents and Settings\All Users\Application Data\[random]\[random].exe
New Path C:\Documents and Settings\USER NAME\Local Settings\Application Data
Windows Vista/7:
C:\ProgramData\[random characters ]\[random characters].exe
New Path C:\Users\USER NAME\AppData\Local
New Path C:\ProgramData\[random characters]\[random characters].exe (Please NOTE  ProgramData is a hidden folder
Once you have re-booted your computer you can browse to the file name and delete it.
If this does not work for you then try booting into safe mode and do a system restore. This will take your computer back in time to when you were not infected with the virus.
At this time you should run a full virus scan. We Recommend Spyware Doctor with Antivirus. However you can use any client you trust the most. To see a list of other clients we recommend check out our Anti-virus Reviews section.
Smart Fortress 2012 Registry Removal Procedures
It's just not worth poking around in the registry. Too many things can go wrong. You are better off leaving the virus traces in the registry as they should not cause any issues. If you want to remove them I recommend using an antivirus client to scan your entire computer or using a registry cleaner like PC Health Advisor Here to clean out the registry and scan for other malware. You can also read all or registry cleaner reviews
Smart Fortress 2012 Directories:
Windows 7 / Windows Vista
%AppData%\Microsoft\Internet Explorer\Quick Launch\Best Antivirus
Software.lnk%AppData%\Best Antivirus Software\
%AppData%\Best Antivirus Software\
%CommonAppData%\79b35\
%UserProfile%\Desktop\
%UserProfile%\Recent
%StartMenu%\
If you run into issues with the Smart Fortress 2012 removal you should seek expert help. We try to answer all questions on this site in a timely fashion so ask below. If you want an expert to remove this virus for you we suggest PC Ninja. They will get you taken care of. Besides that we already mentioned we like Spyware Doctor with Antivirus . Its a great AV client that does a bang up job and will help you to remove Smart Fortress 2012
Related Article Keywords: Smart Fortress 2012, Remove Smart Fortress 2012, Smart Fortress 2012 Removal, How to Remove Smart Fortress 2012, Delete Smart Fortress 2012