Disk Antivirus Professional is a malware virus. This threat once installed will show false scan results making the computer user think they are infected with a virus. It's actually Disk Antivirus Professional that is the virus and the results the client shows are made up.
These kinds of scams are nothing new. In fact Disk Antivirus Professional has come out before under a dozen different names.

How Did I get infected with Disk Antivirus Professional?
Most computers get infected with malware from a drive by download. This is when you visit a website and software is injected onto your computer and Disk Antivirus Professional then installs it's self. There are a number of other ways to get infected like being tricked into installed Disk Antivirus Professional thinking it's something else.
Disk Antivirus Professional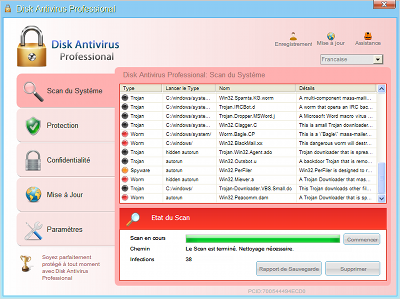 Our Guide below includes a step by step guide showing you how to remove Disk Antivirus Professional.
We have also located a serial that may help with you registering the program to make it easier to remove:  Try the serial AA39754E-715219CE. May not work for every one.
Automatic Disk Antivirus Professional Removal

Online Disk Antivirus Professional Removal Service

Disk Antivirus Professional Manual Removal Procedures
The first thing you need to focus on is stopping the main executable file. This is a single .exe file you need to stop and then delete.
The virus name is like the below (See Video for Guidance)
[random].exe ( Example is lg583d.exe ) Your file trace will be named different.
Some Tips on Locating the file.
A. Browse to the file location shown below under File Locations and re-name the file first and then restart your computer. Then browse to that file location again and delete the file. You can not delete a file while it is in use.
B.  Boot into Safe Mode and delete the file. Again look at the file path below. You can also boot into "safe mode with networking" and download Spyware Doctor with Antivirus. You will be able to install it and run the virus scan. Learn how to boot into safe mode here
C: Log-into another users account and see if you can delete the file. Again use the File Locations below to locate the file
E:  Start the Task Manager the very second you login and terminate the process that way.
File Locations
Take note that the below file locations contain hidden files and folders. For instance the AppData folder is a hidden folder. In order to view these folders you will need to show hidden files and folders. Learn how to at http://www.removevirus.org/show-hidden-files-and-folders
Windows XP:
C:\Documents and Settings\USER NAME\Local Settings\Application Data
Windows Vista/7:
C:\Users\USER NAME\AppData\Local
New Path C:\ProgramData\[random characters]\[random characters].exe
Once you have deleted the above executable, you need to run a full virus scan. We recommend you use Spyware Doctor with Antivirus because it will pick up any left over traces.
If you can't seem to delete this virus you can hire a professional to help. We recommend www.pcninja.com

Conclusion
Like other malware clients, you just have to kill off that 1 single file and then you can use your computer again normally. It's getting to that file and stopping it that can be hard. The above guide has worked time and time again and should work well for you. If you need advanced help use http://www.pcninja.com and they can remove the virus for you. We do recommend Spyware Doctor with Antivirus to help remove this threat or for use after you manually remove the virus as it's a very solid antivirus client and works great.