AV Guard Online
AV Guard Online is a bogus security client. Like most other malware clients this program shows you false and exaggerated scan results. All the error messages this program gives off are false.
Why Did Someone Make AV Guard Online
Money. Spammers and hackers can make money from this client by getting paid a certain dollar amount per installs of the fake security client. The creatures of this malware make money when someone falls for the trick and they purchase the bogus product. One can logically assume that their credit card information will most likely be sold off as well.
What is AV Guard Online Doing ?
Nothing overly malicious. It is not attempting to pass on sensitive information like bank info or e-mail addresses. In most cases it will block most executables from running. This makes it hard for end users to install antivirus clients run real anti-virus software.
AV Guard Online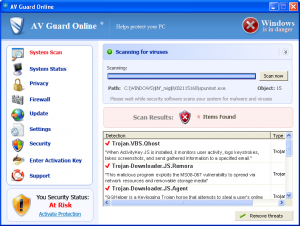 To remove AV Guard you can register the product and enter in code: 9992665263
Then be sure to run a full virus scan.
If you need more advanced details on removing this threat you can check out this Remove AV Guard Online guide. We also recommend this computer repair company http://www.pcninja.com. We had a chat with them earlier about this threat and they know how to remove it.
Related Article Keywords: AV Guard Online, Remove AV Guard Online, AV Guard Online Removal, How to Remove AV Guard Online