FBI Moneypak
If you've found your way to this page, you've been infected with FBI Moneypak. The first thing you'll want to do is take a few deep breaths. Good, now that that's out of that way, I can tell you that this infection isn't nearly as scary as it makes itself out to be, its what's classified as scareware. Infections of this nature attempt to scare the affected user into purchasing them in order to achieve some outcome. In this case, the "FBI" has disabled your computer, but if you pay the fine of $100, they'll unlock it for you. Sounds like a sweet deal right? Depending on whether your computer has a webcam enabled, this infection will also display the live video output from it on screen, acting as if its sending this information out. This is not the case either. If you paid for this infection, you're going to want to call your bank immediately and at the very least put a stop payment on the credit card, you may even want to have your bank issue you a new one. Now that we've covered the scary parts, its time to get down to getting this junk out of your computer, and this guide will walk you through doing just that!
How Did I get infected with FBI Moneypak?
Generally speaking, infections of this kind come from infected webpages, or infected ads on webpages. This infection, however, is interesting. In the cases where we've been able to trace the origin, the infection came from a malicious email purporting to be about a recent package delivery. Sneaky eh? If this infection got past your antivirus without any interaction from you, you might want to consider upgrading.
How Much Damage is FBI Moneypak Doing?
The best thing about infections of this kind, scareware, is that all they're realling trying to do is extory money from you. This particular infection, in the cases we've seen, doesn't cause any damage to the operating system. This is not to say that its harmless however. More recently, the newer variants of this infection appear to be installing an Alureon Rootkit, one of the most insidious rootkit type infections out there, and not one that can be removed by anyone less than a professional. This only seems to be the case when the infection has been on the machine for some time. That said, more than likely, nothing bad will have come from the infection, aside from terrifying you with video from your webcam and notifications from the "FBI." Aside from displaying the live video feed, the infection doesn't send out any information. If you don't have a webcam, the infection displays something that looks like smoke. In either case, there isn't anything to fear from this infection, just as long as you take care of it promptly once it gets onto your computer.
FBI Moneypak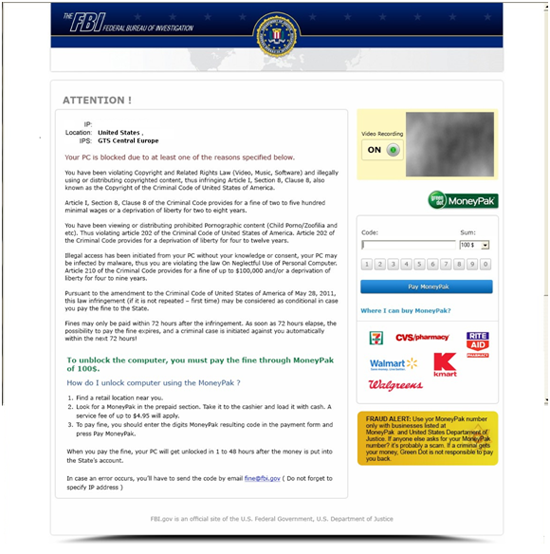 »Download FBI Moneypak Removal Software
How to Remove FBI Moneypak?
This article will cover the three major means to remove this infection: 1. Use Anti-virus software (Note you may need to follow the manual guide to start so you can install a client.) 2. Hire an expert ( We Recommend http://www.pcninja.com.
This is a remote computer repair company) 3. Remove this threat yourself following our manual removal guide.
Automatic FBI Moneypak Removal

Online FBI Moneypak Removal Service

FBI Moneypak Manual Removal Procedures
You need to stop and delete the main .exe file that is running FBI Moneypak. You should be able to locate this file at
The file is totally random and will even include underscores the example we have is.
Example:0_0u_l.exe

You will also need to remove a file in your startup menu follow below.

XP: C:\Documents and Settings\[Your user name]\Start Menu\Programs\Startup\

Vista/7: %AppData%\Microsoft\Windows\Start Menu\Programs\Startup

The file in this folder is ctfmon make sure you delete this file too.
Keep in mind that the USERNAME will be your user name The file is called 0_0u_l.exe or similar. Expect this name to change over time. Once you locate the file you will need to re-name the file. To do this you can right click on the file named and select "Re-name". Name it whatever you want. Once done re-start your computer. Next time you boot up the virus should not be running. Now you should be able to delete the file name. At this time you should run a full virus scan. We Recommend Spyware Doctor with Antivirus. However you can use any client you trust the most. To see a list of other clients we recommend check out our Anti-virus Reviews section.
FBI Moneypak Registry Removal Procedures
We don't recommend that users manually edit the registry. Aside from the issue this infection causes with executable files, there shouldn't be any damage to the registry that cannot be solved automatically by a good antivirus program and registry cleaning software. You may want to use a registry cleaner like PC Health Advisor Here to clean out the registry and scan for other malware. You can also read all or registry cleaner reviews
FBI Moneypak Directories:
XP: C:\Documents and Settings\[Your user name]\Start Menu\Programs\Startup\

Vista/7: %AppData%\Microsoft\Windows\Start Menu\Programs\Startup
%AppData% is a home directory listing that will take you directly to the users Application Data directory. This should be checked on each users account that is affected by the infection.
If you require advanced help or just want an expert to remove the virus than use this computer repair service. The charge is under a hundred bucks and they can often get started right away. These are real experts when it comes to
malware and virus removal. Related Article Keywords: FBI Moneypak, Remove FBI Moneypak, FBI
Moneypak Removal, How to Remove FBI Moneypak