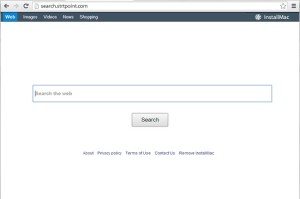 One of the most intriguing but very antagonistic malware programs recently created is the search.strtpoint.com. From its name itself, you would smell something strange but you would be more surprised if you found it as your browser. Basically, search.strtpoint.com is a damaging hijack browser.
Known in the web kingdom as one of worst illicit harmful computer programs, Search.strtpoint.com can take over your browser no matter how solid your browser is. Mozilla Firefox, Internet Explorer, Safari and Google Chrome which are reputable search engines and have so many security features can be easily defeated by this browser hijacker. So how can this treacherous program get into your computer system even though you are armed with an anti-virus and protected by a firewall? Through what you did, of course.




It may sneaked in when you have downloaded a free application like a game, video, software or if you ever visit a notorious site where scammers' programs crawl all over like adult sites/porn sites or hacked sites. It is actually an undetectable small program that is hidden among extensions. Like a human virus disease, once the search.strtpoint.com goes inside your computer this can be very hard to deal with. We sure can stop it but if you ignore the warning signs, worst consequences may happen to your computer.
The Bad Things That It Does
The search.strtpoint.com is programmed to decode codes and modify key settings like your DNS and manipulates browser settings which can ultimately result to hijacking of your actual default browser. Some people would not mind having a new browser since this program can seem to run like a real browser. However, as you use it the harm that it does to your system gets worse.
On its initial use you would notice that your usual homepage is gone and changed to search.strtpoint.com. And when you use it this won't provide you reliable results with your search but will constantly redirect you to a lot of syndicated websites owned by illegitimate site owners which the creator of the adware got paid from. Other than this, you will see a lot of ad pop-ups as you browse that will literally slow down your system and annoys you endlessly.
Now the worst thing that the search.strtpoint.com can bring about to your computer is making your computer's system to crash. This is because this hijacker browser is full of threats. It allows worms, Trojans, keyloggers, rogue programs, malwares and adware continuously into your computer. It is also bundled with add-ons that are useless, plug-ins or extensions that are deliberately programmed to render your legitimate browser incapacitated.
If you don't do anything to stop the hijacker from enjoying its stay in your computer, you will notice that your system's performance starts to get slow. And while that is happening, the malware's keyloggers can be tracing and recording your browsing history and inspecting cookies and your very private information will eventually be under serious risks. Because of these, you should really do your best to eliminate Search.strtpoint.com hijacker browser totally from your system.
What To Do
Basically, you can uninstall the program if you can find it installed. Click Control Panel, click Add Remove Programs and uninstall it. However, this may not always work because this program is a very stubborn malware. So the better effective way is doing the System Restore to totally leave the time when you thought you have accidentally allowed Search.strtpoint.com to sneak in.
If you are not yet familiar with System Restore method, this is how you do it.
Click the Start Button and type in System Restore. Allow it to run if there's a prompt that asks you to allow it. Click Next and from the list you can see the dates that are usually within the present month you are in. These restore points dates were generated automatically by your computer.
Choose the date which you think has the cleanest state before you had the malware in. If you want more restore point dates click the button that says "Show more restore points". Confirm the restore action. After the restoration is completed you need to reboot your computer to make the restoration in full effect. Don't worry about your files. These will be intact and nothing will be changed with system restore.
Now, aside from using System Restore, you might want to consider creating back-ups to your files in case of system crash. Though your hard drive will fail, at least you have kept your files intact. Try the data backup software. This will really keep all your data in very safe place and can be retrieved no matter what happens to your computer.
There is also one very effective way of keeping off the search.strtpoint.com from your system totally and that is by using SpyHunter.
SpyHunter is one of the best and recognized malware and adware removal tools today that can detect and eliminate all kinds of threats from your computer. Even the audacious search.strtpoint.com can be easily cleared out. Installation is very easy and once it is installed you just click "Malware Scan" and this will do a quick and full system scan. The completed scan list will show you all the detected threats. By just clicking "Select All", and "Delete", all the threats will be eliminated. That's how convenient, efficient and easy to use the SpyHunter. It will also stand guard incessantly so whatever malicious program enters your computer even it hides, the SpyHunter will find it.