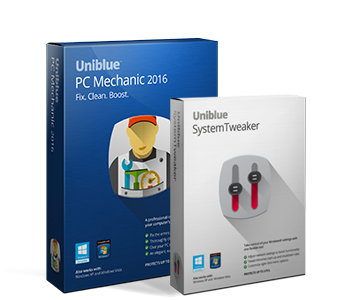 The biggest news about Registry Boost is it's now called PC Mechanic 2015. This was most likely done because over the years registry cleaners have evolved into PC optimization tools. They are not so much about cleaning out the registry but more about PC optimization
PROS: As a stand alone registry cleaner, PC Mechanic 2015 has proven to be one of the best in the field. Fast and accurate registry repairs that you can rely on.
CONS: Uniblue has created a great program but those cost is 39.95. For the price you get great value but I do miss the old 29.95 price on just the cleaner. However they make up for it currently giving away System Tweaker for free.
OVERVIEW: In the end. IF you looking for just a registry cleaner you can not go wrong with selecting Registry Booster 2011. It may not get our number one recommendation for best registry cleaner but that would only be because the program does not have extra features. It's solely a registry cleaner.
PC Mechanic 2016 Review
Company: Uniblue
Release Date
Operating Systems: Windows XP, Vista, Windows 7, Windows 8, Windows 10
Price:$39.95
What It Does
Sanitizes the Windows Registry removing any links to missing program files, remnants of uninstalled programs, hardware configurations which have negatively impacted computer's performance, resulting in correct registry entries.
Product Details
Having registry corruption can be one of the most frustrating experiences of a PC user. PC Mechanic 2015 will scan the registry and report back all errors found in any of the hives. Symptoms of the registry problems could be sluggish performance, quirky errors when running programs or unexpected system crashes.
Upon launching the application, a system health check is displayed with a visual meter of detected registry damage.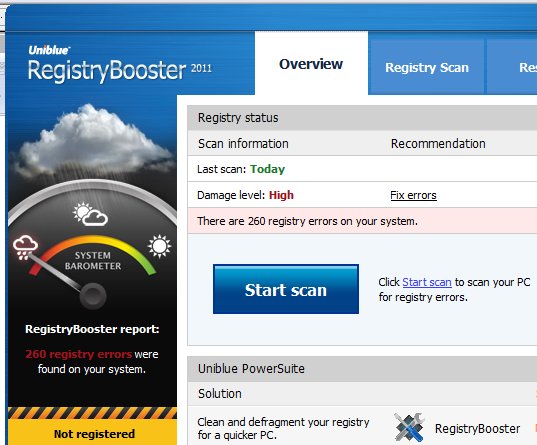 The software scan is completely very quickly, and provided a progress meter while processing. Within seconds a report was returned with numerous errors.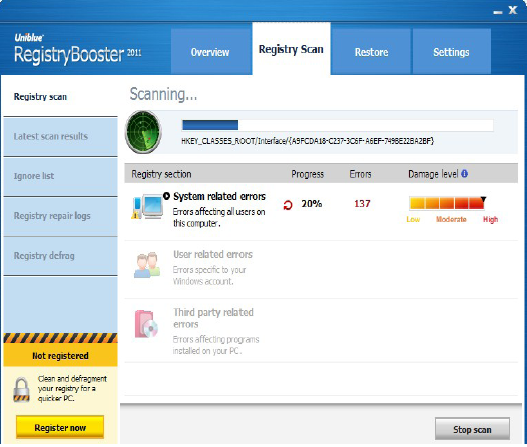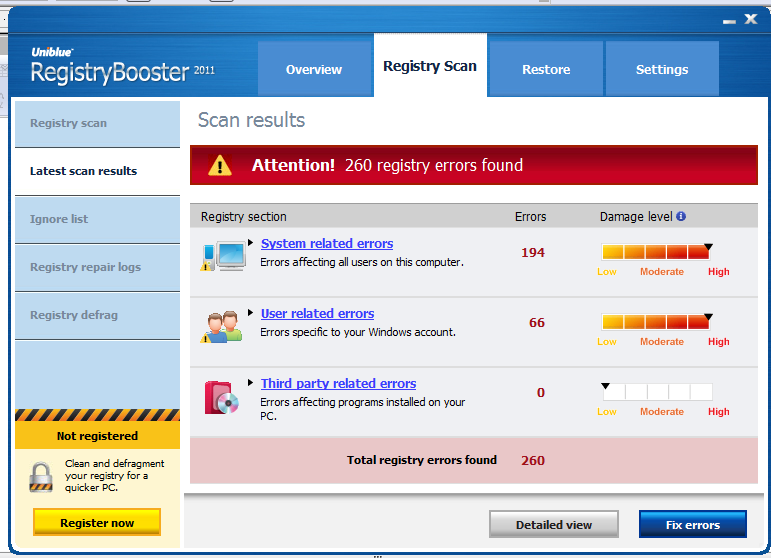 Settings can be configured to check system errors, user errors or third party related errors. A detail of which registry key contains the invalid entry can be viewed in the event you'd prefer to make manual registry changes, an action strongly frowned upon by Microsoft and most other operating system consultants.

Once the scan process is completed, you have several choices: Repair, or Restore. Because the software logs each registry entry change, in the event these changes are infective or result in additional
problems, you can revert back to all the original registry entries.

There may be times when you want to protect certain registry locations from the scan, perhaps in a troubleshooting session. If necessary, enter the hive path which should be ignored.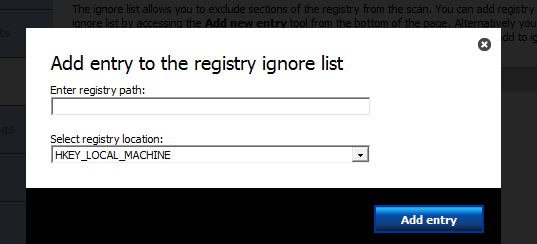 Another process to speed up your computer operations is to also defrag the registry, and Registry Booster includes this tool from the Registry Scan tab.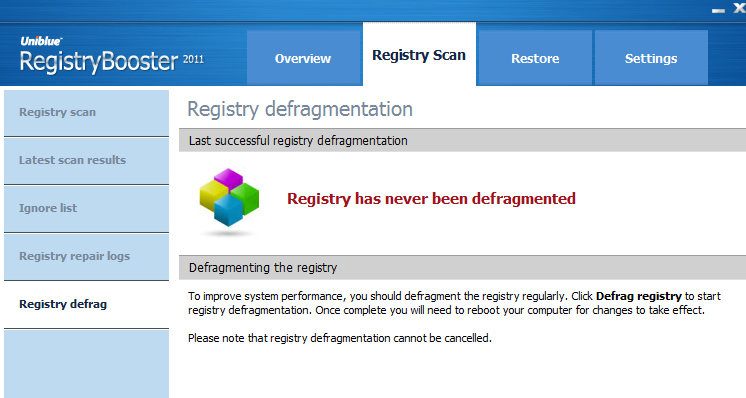 Security
PC Mechanic 2015 will work behind a proxy server.
Installation
No challenges were experienced when running the installation file.
Knowledge Level
Novice = 3 Intermediate = 2 Expert = 1
Technical Support
With such a easy to use program, the need to contact technical support may be minimal. But problems do arise and as such the Support Dashboard contains help articles on installation, licensing, and errors. Additionally there is a Frequently Asked Questions section. The only contact with a technical support representative is after an online form is completed to create a help ticket.
License Model
Single usage license only.
Conclusion
Registry corruption can be subtle but deadly. When it happens, outside of a good system backup, having PC Mechanic 2015 on hand could ease your frustrations and limit poor system performance. With ease of use, simple screen menus an undo feature, and Microsoft's gleaming stamp of approval, PC Mechanic 2015 is an in-expensive and outstanding choice for registry concerns.
Summary
Author Rating