A CRT projector works in much the same way as a CRT TV, the video image being formed on three picture tubes, each of which produces one of the primary optical colours. High voltage within the set is required to excite the electron beam within a picture tube, which then generates light output when the electron beam hits the phosphor surface of a tube. The red, blue and green images are then aligned on the screen to form one colour-integrated image.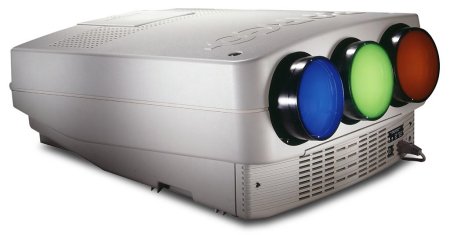 Picture tubes typically have a manufacturer life rating of 10,000 hours. It is the phosphor surface that wears generally, not the electron gun of the CRT. Moreover, it will wear faster the higher contrast and brightness settings the projector is operated at. A related problem is that CRT projectors are susceptible to static images burning themselves into a tube's phosphor surface, something that can happen in as little as 1000 hours.
CRT projectors are analogue and so do not have a fixed number of pixels (native resolution) like digital devices. They therefore have greater versatility when it comes to producing clear images from sources with a range of resolutions.
The images they produce are characterised by excellent colour balance and contrast and particularly good reproduction of black levels and flesh tones. The fact that there are no lamps to change periodically is also an advantage.
However, they're generally bulky, expensive, complex to set up. They typically have a lower average lumen output than other type of projector and require a darkened room for optimum performance. Being analogue devices, they need to be realigned periodically. Significantly, they're largely discontinued from production.
As a consequence, their use is increasingly confined to large, fixed-mount systems – often permanently installed – in larger presentation rooms.