Essentially, the Smithfield core is no more than a pair of 90nm Prescott 1M dies bound together. Each core has its own 1MB L2 cache which may be accessed by the other either via a special bus interface. The result is a 206mm2 die comprising 230 million transistors.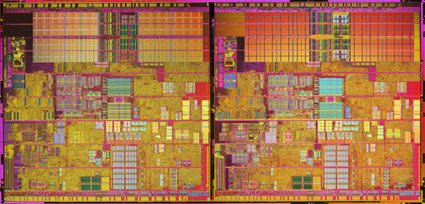 Even though the new dual core chips use the same LGA775 socket as Pentium 4 Prescott, you'll still need a new motherboard to accommodate them, as they require support from the motherboard chipset. Enter the new 945 and 955X chipsets, formerly codenamed Lakeport and Glenwood respectively. These essentially provide the same features as the earlier 915 and 925X chipsets, plus support for the new dual core processors. The former is for use with the mainstream Smithfield processor and comes in two versions – the 945P Express and graphics-capable 945G Express – while the latter partners the Extreme Edition chip.
All desktop dual-core chips are expected to support the EM64T, EIST,XD bit and Vandepool technologies, introduced over recent months as innovations of the Pentium 4 Extreme Edition architecture:
Enhanced Memory 64 Technology (EM64T) provides 64-bit extensions of x86 architecture compatible with Windows XP Professional x64 Edition, thereby allowing simultaneous execution of 32-bit and 64-bit applications and support of over 4GB of RAM.
Enhanced Intel SpeedStep technology (EIST) is identical to the mechanism implemented in Intel mobile processors which now allows a processor to reduce its clock frequency when no high performance is required, thereby significantly reducing a CPU's heat dissipation and power consumption.
Execute Disable Bit (XD bit) technology, whose support of the so-called NX bit (Non-Execute) prohibits the execution of code stored in certain memory pages, thereby preventing buffer-overflow attacks.
Intel's Vandepool technology (also known as Virtualisation technology) allows a system to run multiple operating systems and applications in independent partitions, allowing a single computer system to function as several virtual machines.
May 2005 saw three Smithfield Pentium D chips released, with clock speeds of 2.8, 3.0, and 3.2 GHz and model numbers of 820, 830 and 840, respectively.