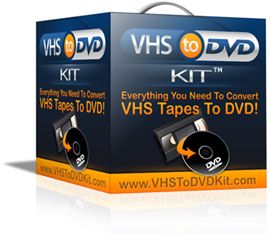 Transferring  a VHS tape  to a DVD sounds like something hard to do but in reality it's not.  It's basically taking what is on tape and converting it to a digital file that can be burned onto a DVD or any media source for backup and preservation purposes.
The best way to preserve and copy your VHS tapes is to purchase a complete VHS to DVD conversion kit.
View Video of the below steps here
What hardware you need:
1. USB video Adapter
2. USB extension cable
3. RCA video cable
4. Blank DVD's
5. DVD Burner
6.  Capture and edit video software
7.  A manual and guide on how to use the software and setup all the above. ( Optional but helps)
You can go out and search all over town for the needed materials to convert vhs to DVD's or to a digital format but it will cost you a lot of time and a few hundred bucks.  That is why we recommend you simply purchase a pre-maid kit that is designed just for VHS to DVD conversion.  There are several on the market.  The only kit I have used can be found here.
The above mentioned kit comes with everything you needed except the DVD burner and computer.  Chances are you have a computer and if it's under 5 years old you most likely have a DVD burner with it.
Check out this Transfer VHS to DVD Conversion Kit