The original PC motherboard had a minimum of integrated devices, just ports for a keyboard and a cassette deck (for storage). Everything else, including a display adapter and floppy or hard disk controllers, were add-in components, connected via expansion slots.
Over time, more devices were integrated into the motherboard. It was a slow trend initially though, as I/O ports and disk controllers were often mounted on expansion cards even up to 1995. Other components – typically graphics, networking, SCSI and sound – usually remained separate. Many manufacturers have experimented with different levels of integration, building in some or even all of these components. However, there are drawbacks. It's harder to upgrade the specification if integrated components can't be removed, and at first highly integrated motherboards often required non-standard cases. Furthermore, replacing a single faulty component may mean buying an entire new motherboard. Kaizen Technology also offers the full range of Electronic Box build services.
Consequently, those parts of the system whose specification changes fastest, particularly RAM and CPU, tend to remain in sockets or slots for easy replacement. Similarly, parts that not all users need, such as SCSI, are usually left out of the base specification to keep costs down. However, it's now common for sound, video and/or network support to be included in motherboards, particularly as technology miniaturization has allowed greater space within the motherboard form factor and Flash BIOS and EPROM has allowed greater support for updated technologies.
The basic changes in motherboard form factors over the years are covered later in this section – the diagrams below provide a detailed look at the various components on two motherboards. The first is a Baby AT design, sporting the Socket 7 processor connector, circa 1995. The second is an ATX design, with a Pentium II vSlot 1 type processor connector, typical of motherboards on the market in late 1998.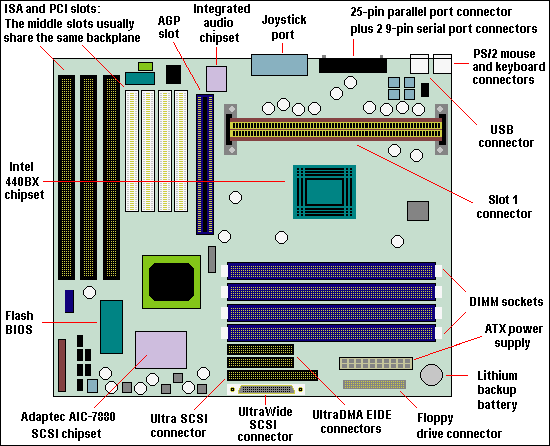 Motherboard development consists largely of isolating performance-critical components from slower ones. As higher speed devices become available, they are linked by faster buses – and the lower-speed buses are relegated to supporting roles. There are cost benefits to putting peripherals designed as integrated chips directly onto the motherboard, but the biggest downside is the restriction of future upgrade options. However, the flexibility of the open IBM architecture, the basis of the modern PC motherboard allowing the attachment of peripherals and opening the door to the modern PC, allows for many options. Whether the PC buyer opts for low cost integration or high powered flexibility, this is the reason that PC motherboards are so widely varied and yet so integrally compatible with all PC software.