Intel has been promoting its Balanced Technology Extended specification for a while before the company began, in late 2004, to push in earnest to establish the BTX form factor as the replacement for the aging ATX motherboard and chassis specification.
The BTX form factor is a scalable form factor that allows for a wide range of system sizes and profiles. There are several benefits associated with a properly designed BTX system over designs from previous form factor specification generations. These benefits include scalability in system design, improvements to system power delivery and power dissipation, acoustics, board layout and routing, high volume manufacturing costs, and structural integrity.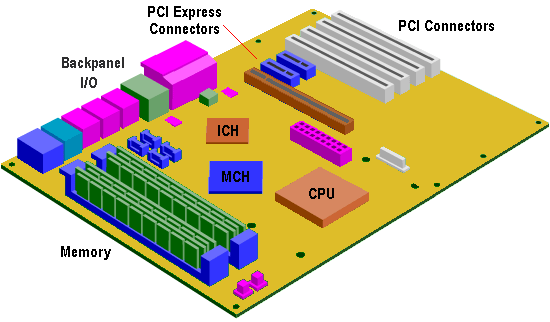 A BTX motherboard positions its internal components in such a way as to as to allow the CPU heat sink and other hot-running chips to be cooled by a single airflow stream. The idea is that, in addition to the power supply's internal fan, it should be possible to cool an entire system with just a single chassis fan. BTX refers to this new heat-sink-and-fan combination as a Thermal Module. A typical thermal module includes a heatsink for the processor, an air mover such as an axial fan and a duct to isolate and direct airflow through the system.
Since the required direction of airflow is from front to back, the design required that particular attention be paid to acoustic management strategies so as to compensate for the fan now being a noise source that is generally directly in front of the system user.
The BTX specification is designed to encompass a family of board sizes for a range of system sizes. It's like having ATX, microATX, and FlexATX form factors all being covered by a single specification. A standard BTX design measures 325mm x 266mm and supports up to seven add-in card slots. For sizing down to smaller form factors, Intel is providing two different designs: a microBTX, measuring 264mm x 266mm with up to 4 add-in card slots and a picoBTX measuring 203mm x 266mm with up to 1 add-in card slot.
In fact, the BTX specification offers even greater flexibility than ATX family of form factors, supporting not only different board sizes, but also different system heights. The standard height is similar to the height defined in the ATX-family form factor. An additional, lower profile height is defined for use where it is important to reduce the overall size of the system.