A step towards Toshiba's vision was made in late 2000 with the unveiling of the world's first fabric keyboard, designed for use with devices such as PDAs and mobile phones. The ElekTex keyboard – developed by the British company ElectroTextiles – gives a tactile response on key presses, is durable enough to wrap around the mobile device to form a protective case and includes an integral stand for easier screen viewing.
The ElekTex keyboard combines conductive fabric structures with microchip technology to produce a keyboard that can be folded, scrunched and washed, without losing functionality. The versatility results from the conductive fibres' ability to offer a lightweight switching and sensing technology that can conform to 3D shapes whilst retaining X-Y position and pressure sensing. Output resolutions for X-Y position measurement as high as 0.0001% of fabric size are theoretically achievable with pressure response ranges between 0.2psi and 30psi.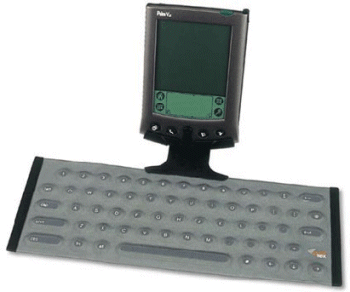 Inputting a long document into a PDA device could be a frustrating, cumbersome and eye-straining experience, especially for the stylus-based palm size form factor. The ElekTek fabric keyboard was part of a trend for external, plug-in PDA keyboards that had emerged by the late 1990s and that was to contribute to the decline in popularity of the keyboard-based PDA form factor.
By 2002 these devices were available in a number of designs that provide a full-qwerty keyboard data entry solution:
fabric keyboards that can be rolled up or folded around the PDA device
compact, lightweight keyboards with a special PDA docking area, some designed for use on a flat surface and to allow touch-typing, others small enough to be held in one hand whilst typing with the other
conventional PS/2 port keyboards that use a special cradle device for PDA connectivity
keyboards constructed with collapsible sections so that they can folded for transport and opened up and slid together to form a conventional size for use
snap on devices designed for thumb-typing