Formerly known as DVD-R/W – and also briefly as DVD-ER – DVD-RW is Pioneer's evolutionary development of existing CD-RW/DVD-R technology that became available at the end of 1999. From the outset, the overriding design objective was to produce a format that merged effortlessly with the existing DVD environment. For example, DVD-RW discs do not use protective cartridges, allowing them to be used with the disc-loading mechanisms in all existing players and drives. The format also specifies a relatively high surface reflectivity, making it easy for standard playback optics to recognise and play recorded discs. From a manufacturing perspective, DVD-RW media are assembled using a four-layer process very similar to the one used to make CD-RW media. This enables existing disc manufacturing lines to be used for DVD-RW production without extensive retooling.
DVD-RW discs use phase-change technology for reading, writing and erasing information. A 650nm wavelength laser beam heats a phase-change alloy to change it between either crystalline (reflective) or amorphous (dark, non-reflective) conditions, depending on the temperature level and subsequent rate of cooling. The resulting difference between the recorded dark spots and erased, reflective areas between the spots is how a player or drive can discern and reproduce stored information.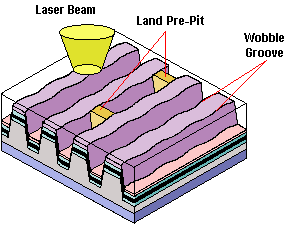 DVD-RW media uses the same physical addressing scheme as DVD-R media. During recording, the drive's laser follows a microscopic groove to ensure consistent spacing of data in a spiral track. The walls of the microscopic groove are modulated in a consistent sinusoidal pattern so that a drive can read and compare it with to an oscillator for precise rotation of a disc. This modulated pattern is called a wobble groove, because the walls of the groove appear to wobble from side to side. This signal is used only during recording, and has no effect on the playback process. Among the DVD family of formats only recordable media use wobble grooves.
A pre-formatted addressing scheme, called land pre-pit is used to identify the physical address of where data blocks are to be written. This scheme consists of a series of microscopic pits that are embossed in the land area between grooves.
The first DVD-RW home video recorder released in Japan in late 1999 used the new DVD-VR (Video Recording) format. Consequently, discs made by the recorder wouldn't play in existing DVD players; they were compatible at the physical layer but not at the application layer. The subsequent adoption of the DVD-Video format addressed this particular issue and Pioneer's DVR-A03 drive – released in 2001 – provided the most complete recording to date, being capable of writing to all of DVD-R, DVD-RW, CD-R and CD-RW media.
However, despite its design aims – in practice there remained a number of impediments to DVD-RW's full compatibility with existing players. For example, some drives and players are confused by DVD-RW media's lower reflectivity into thinking it's a dual-layer disc, and attempt in vain to locate a non-existent second layer. This can result in some players or DVD-ROM drives being unable to play DVD-RW discs. Some players determine what type of disc is loaded by reading a media identification code present on all types of DVD media. Since DVD-RW is a new format, some players and drives may not recognise the disc type and refuse to play them. Both of these problems may be resolved by a minor modification to a player or drive's firmware.
Another problem concerned the embossed area on version 1.0 DVD-RW media (released only in Japan in late 1999) to ensure that decryption keys used to protect motion picture content cannot be recorded. This embossed area is unreadable by nearly all video players and DVD-ROM drives. This problem was addressed in the subsequent version 1.1 DVD-RW media.
One of the principal claims of the third rewritable DVD format – DVD+RW – is that it provides better compatibility than either of its rivals.