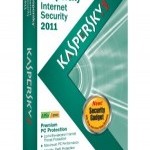 [starreviewmulti id=7 tpl=20]
PROS: Kapersky Internet Security 2011 Software merges internet security and virus protection for computer systems.
CONS: Reliable protection is given when using Kapersky Internet Security 2011. Protection from malicious programs and through monitoring is conducted.
OVERVIEW: Kapersky Internet Security is a sound program that protects users from various threats. The interface is user friendly and simplified for better use.
Kaspersky Internet Security Review
Company: http://www.kaspersky.com
Version: 11.0.2.556
Release Date: July 2010 RATING
Operating Systems: Windows XP, Vista, Windows 7
Price: $79.95
What It Does:
Provides complete protection and the best of both worlds of anti virus and Internet security.
Product Details:
Very similar to the interfacee of theiranti virusus program, Kaspersky's Internet Security interface is almost identical. Launching the program you will see their signature green menu and the green ball floating on the top right of your screen indicating the program is running. Of course if that is too offensive or annoying you can opt to change it to a pc monitor or close the gadget altogether.
The simplification of the product is impressive. Each menu and its' sub menu provides a white background with minimal instructions with an explanation for the each menu's heading.
With the increase of identify theft and schemes via email to steal passwords and banking account information, Kaspersky has created a process called "Safe Run". This functionality creates a firewall between the end users computer system and the internet but does not limit the end user's ability to experience the web. All operations function normally with no performance loss when doing normal browsing. When using safe run, the browser's window is covered in a green border. Safe run must be started before web browsing begins and is not automatic when a browser window is opened.
Kaspersky's ability to protect a pc from hackers and other types of malware threats was certified with the award given in August 2010 by Virus Bulletin, an independent rating and testing firm. Testing is performed to quantify Kaspersky ability to not only detect viruses, and malware but also on other areas of operation, ease of use, and responsiveness to new virus threats. It successfully passed all test and received a better score than other products in the security protection space, namely Symantec and McAfee.
Parents will also feel a level of security and comfort when their children are at play on the computer. Parental controls not only track activities and stop web browsing during certain time periods, allow usage of certain programs during specific times, restrict website destinations, block downloads of videos, applications, and permit only certain email senders or instant messenger friends. The parent can also build a list of words the child or more likely a teenager may be using during their instant messaging sessions.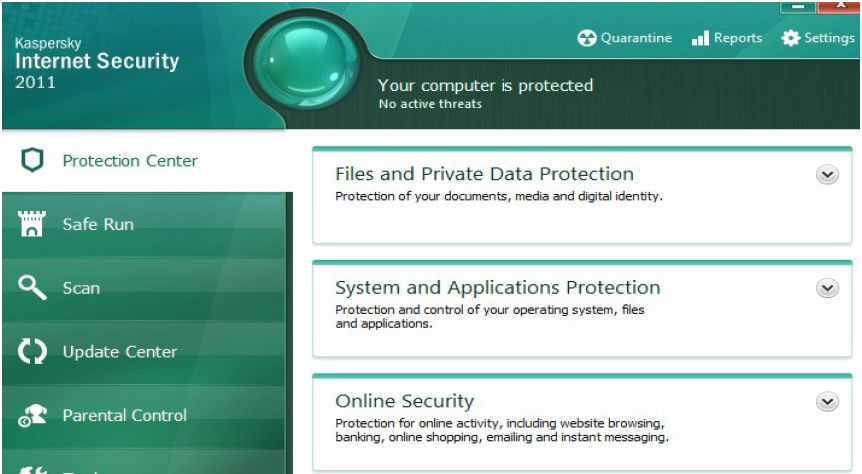 The start up screen begins with the Protection Center and automatically scans upon launching. Scanning options include running a Full system scan or just critical areas and additional settings can be selected to specify scanning of specific data or Windows files.
Safe Run is Kaspersky's method of creating a dual way firewall. Users can send and retrieve data safely with the only indication that safe browsing is live being the green outline.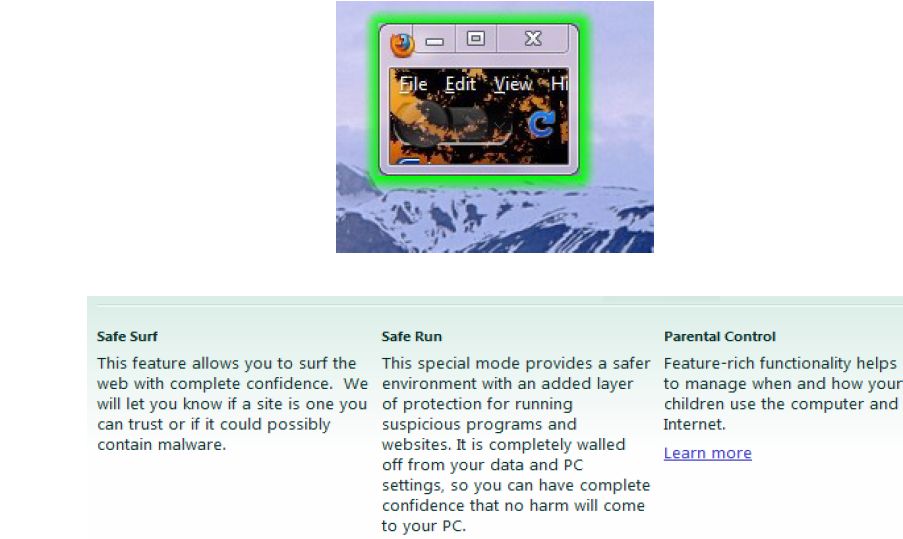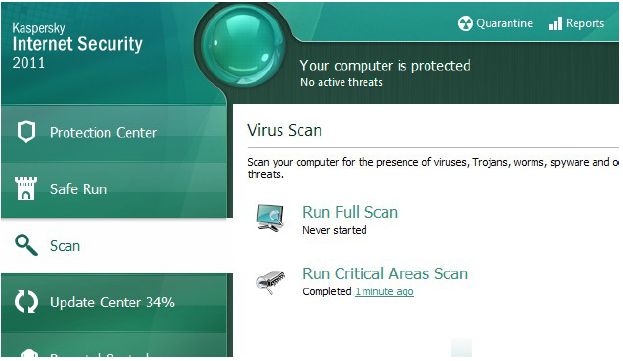 Scan results are presented promptly.
Further controls are under the Tools menu which include a system restore option in the event the pc was infected and unable to be repaired. The Rescue Disk is created prior to a problem and kept on hand for an emergency start up problem. The Privacy Cleaner will remove any files containing confidential information(passwords, account numbers, etc.). The Browser configuration will analyze Internet Explorer for security holes and less than favorable settings that could open your system up to an attack. Explorer is the only browser mentioned under this option. The System Restore option will reset your operating system back to a point after an infection was discovered but cleaned with Kaspersky.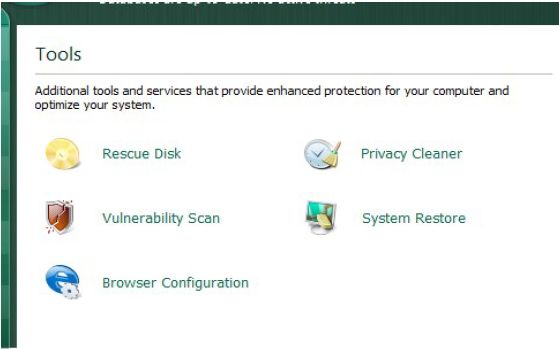 Keylogger malware programs will have a difficult time with a pc running Kaspersky. This type of bug will send the keystrokes of the owner as they use their keyboard. To thwart this type of sneakiness, Kaspersky has embedded a virutal keyboard, and since it is now a part of the software, a keylogger has no chance to perform its lecherous behavior. Even if they attempt to take a screen shot of the end users virutal keyboard, it will not create the image. Parental controls are numerous and provide a safe Internet experience for children of all ages.
Security
Windows installation requires administrative rights and not specific to Kaspersky usage.
Installation
The standard installation as normal. No special settings or precautions are noted.
Knowledge Level
Novice = 3 Intermediate = 2 Expert = 1
Technical Support
Better than most companies support provision, there are a number of ways to get help for your problem. If you are comfortable with your own troubleshooting abilities, search through the knowledge or a list of frequently asked questions. More technical information can be obtained from their knowledge base. All my test searches resulted in articles matching my exact search term, or within 2 or 3 subsequent links from the initial hit. You can also send a request for help and a technical support person is available via email, and perhaps may not be the quickest way to solve your problem.
License Model
$79.95 covers the usage on 3 computers
Extras
Coverage for 2 addition systems for less than the price of the average anti virus package.
Conclusion
There are a host of reasons to choose Kaspersky's Internet Security over the competition. Not only do they cover the everyday threats of virus infection and malware annoyances, the product will also protect against identify theft, phishing tactics, and online banking intrusions. Parent can rest assure with the numerous controls for limiting access and communication with strangers, and reduce the amount of time spent on the web. Kaspersky offers the combination of simplicity and a powerful protection for all your Internet connections.