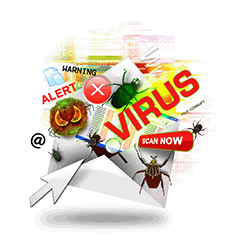 If you already see the Findpages.net virus displaying as your home page, then your computer might be hijacked. This browser hijacker can infect even those popular browsers like the Mozilla Firefox, Internet Explorer and Google Chrome. In addition to that, every search query will generally sent via Findpages.net website, but the result will all be useless since there is no relevant search result. It is common that this browser hijacker promises the best result and it has the title of "Search & Surf the Web!!" But these are all nonsense!
At first, it is not obvious that once the Findpages.net virus got installed in your computer system, it will alter many things to take control the process of your PC. In this part, let's discuss how this browser hijacker is distributed along with the free applications that comes with it. You may download, choose the free application online and install them on your PC, and when you fail to read and follow the details of the steps of the download process. You can miss the important instructions that can help you prevent the installation of the unwanted programs. This is how Findpages.net virus can get into your computer along with the other unsafe programs that goes with it.
Using the Findpage.net virus when you search online, because this hijacker program has already changed your home page, using it will show endless ads throughout your online activity. You'll notice lots of sponsored links when you use Findpage.net as your search engine. Beware not to click the ads or links, for it can take you to harmful websites. This will expose you to several useless applications which will serve you no good place, Find page. The anti-virus can't give any relevant search results. This is the reason you should remove it right away.
Manual Removal of Findpages.net Virus
For step 1, you need to uninstall Findapages.net Virus from your Control Panel:
For Windows XP, Vista and 8 OS:
• Close or shut down the browser, Findpages.net
• Locate the Start and click the Start and then go to the Control Panel.
• For Windows XP, click "Add or remove programs".
• For Windows Vista and 7, click the "Uninstall a program"
• On the list, uninstall Findpage.net and those related softwares.
• For Windownds XP, click the "Remove" button, while on Windows Vista and 7, right-click the related item that are identified as malicious programs, and then click the "Uninstall/Change".
For Windows 8 OS:
• At the top right corner of Windows 8 on the screen, click Search.
• Enter the words "Uninstall a program", and then click the Settings.
• On the left menu, select the "Uninstall a program".
• On this part, uninstall the Findpage.net virus. On Windows 8, right-click using your mouse, and then click "Uninstall/Change".
For complete removal of Findpages.net virus to your computer, download the Free trial of Spyhunter.