In 2004, Logitech, with the help of technology innovator partner Agilent Technologies, took the first step beyond LED illumination with the unveiling of a true, next-generation engineering breakthrough – laser illumination and tracking. The culmination of years of research, the companies claim the laser technology present on the Logitech MX1000 Cordless Laser Mouse delivers a 20x increase in the sensitivity to the surface features used for navigation compared to conventional optical mice. Moreover, it does so on virtually any surface, white or black, solid or pattern, shiny or matte.
To detect movement, all sensor-based mice, regardless of light source, use sensors to read the light beam as it is reflected back into the mouse from the tracking surface. Each second, Agilent's optical sensor inside Logitech's mouse captures more than 6000 snapshot fingerprints, converts the information to digital format and uses the changes in successive snapshots to calculate the mouse's precise location, speed and direction of movement. Armed with that knowledge, Logitech's driver software then communicates with the computer's operating system, which moves the cursor image on the screen.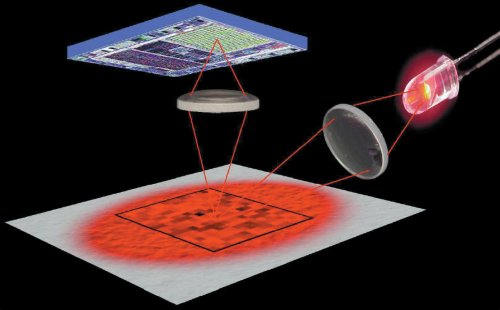 Laser illumination reveals structure that an LED simply cannot express. The coherent nature of laser light creates patterns of high contrast when its light is reflected from a surface. The pattern appearing on the sensor reveals details on any surface, even glossy surfaces that would look totally uniform when exposed to the LED incoherent illumination. The precision image sensors then have no difficulty in tracking the patterns and calculating position and movement.