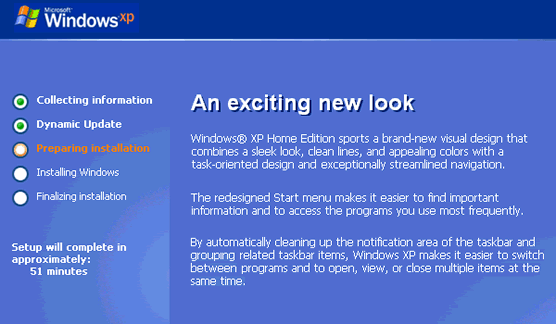 In the Preparing installation phase, more files are copied to your computer in preparation for installation.
After a while, the computer restarts with Setup identifying the existing partitions and unpartitioned space on the PC.
Partitioning and formatting your hard drive
Proceed as follows:
Select the partition on which Windows XP is to be installed – the D: partitionin this case.

Press Enter.

Setup invites you to select a file system for the chosen partition.

If you want the Windows XP environment to be accessible from the Windows 98 environment, select FAT and press Enter.

Setup displays a caution that you're about to delete all the files in the selected partition.

Press ESC to select a different partition or F to proceed with the format.

If FAT was selected as the file system and the drive is larger than 2048MB, Setup informs you that it will format the partition with the FAT32 file system.

Press Enter to continue.

Setup formats the partition.
After the formatting has been completed, Setup examines the disk space and copies files from the CD-ROM to the Windows installation folders.
Setup then initialises your Windows XP configuration and restarts the computer.