US-based Candescent Technologies calls its implementation of FED technology ThinCRTs. The technology works on the same principles as standard picture tubes used by desktop computers and televisions. Beams of electrons are fired from negatively-charged electrodes (cathodes) through an evacuated glass tube. The electrons strike phosphors at the front of the tube, causing them to glow and create a high-resolution picture.
Candescent has replaced the electron guns, deflection yoke and shadow mask of a conventional CRT with a perforated conductive sheet through which conical cold cathode emitters – known as Spindt Cathodes – protrude. Passing a current through the conductive sheet causes the cathodes to emit a stream of electrons, which causes phosphor to glow in the same manner as a typical tube.
While conventional CRTs consist of a large bell-shaped tube, a ThinCRT uses a flat tube a mere 3.5 millimetres thin. This consists of two sheets of glass separated by a 1-millimetre gap. The internal display supports are very thin walls (e.g. 0.05mm) made of a proprietary ceramic material. These are strong enough to handle 14 lbs. per square inch external atmospheric pressure – making them sufficiently durable to withstand mechanical handling during production – yet thin enough to be hidden between pixels without affecting the electron beamlets. The face plate is coated with conventional CRT aluminised colour phosphors.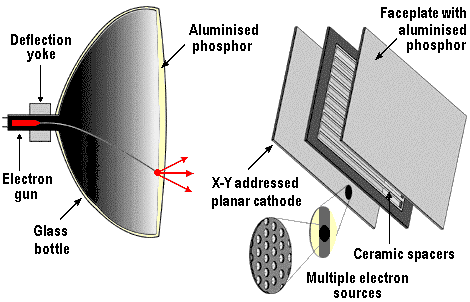 In place of the conventional CRT's single large cathode, are millions of microscopic electron emitters formed on a baseplate using thin film processing technology similar to that used in LCD panel fabrication. The cathodes are very small – only 200nm each – and it takes several to activate individual pixels onscreen, allowing a relatively high failure rate (Candescent claims 20%) before degradation is visible. This makes ThinCRT significantly more viable in terms of manufacture than LCD and – with an entire display of the order of 8mm thick – a fraction of the depth of a conventional CRT.
The technology is called cold cathode because electrons are generated at room temperature without the heating necessary in conventional CRTs. The emitters consume only a small fraction of the power used by the traditional CRT's hot cathode. This results in a very power-efficient display. Further power efficiency is gained because of the absence of the shadow mask used in conventional CRTs, which can waste up to 80% of the power.
Candescent claims that almost 80% of the tools, equipment and processes used in the manufacturing process will be derived from existing CRT, LCD and semiconductor manufacturing industries, significantly cutting the cost of equipping production lines. In late 1998 an alliance with Sony was announced aimed at bringing 14.1in displays to the market early in year 2000 at a price comparable with TFT.