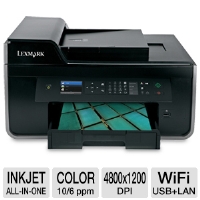 The Lexmark Pro715 MultiFunction Printer can print 10 black pages per minute and 6 color pages per minute. With a high DPI of 4800 X 1200 and scan capabilities of 1200x 1200 dpi it's clear that the Lexmark Pro715 can squeeze out a very nice picture.
This is a all in one thermal inkjet printer. It can scan, copy, print and fax. The printer is also wireless so you can set it anywhere and easily connect it to a router and then print from any computer in the home or office. For the price of $169.99 you will find other inkjet printers able to offer better print speeds. The color depth will be hard to find.
The list price for the printer is $169.99. We found the printer for 50 dollars off on tigerdirect here. Total cost is now $119.99. Not sure how long the deal will last so it may not be live anymore.
All the features sound great but from reading other online reviews about the product I would say I'm not impressed. Seems this device is known for paper jamming all the time. Who want's to deal with that on a daily basis. For the cost I would shy away from this product and go with something else like the Epson Workforce 645. That is a great printer in the same price range.
The product currently has a 2.0 out of 5 Star rating on Amazon with 6 reviews. Does not look so good there.
Product Dimensions: 21.8 x 12.8 x 19.2 inches ; 20 pounds
Printer Specs:
Print Method: Thermal Inkjet
Resolution: 2400 x 600 DPI effective output
Paper Input: 150 sheets
Paper Output: 50 sheets
Prints, Faxes, Copies, Scans, does do duplex printing
Print Speed: 10PPM B/W and 6PPM Color
Special Features: USB, Network, Wireless b/g/n
Final thoughts: I would avoid this printer myself. For what you are buying here you can get more going with another product. It seems paper jams as well as software issues effect this device. Don't get me wrong here, I like Lexmark. Just seems they missed the mark of high quality they normally push out with their printers. Still the ink cartridges are a low cost then HP so it has that going for it.