A trackball is a pointing device consisting of a ball housed in a socket containing sensors to detect rotation of the ball about two axes – like a mouse lying on its back. The cursor is moved about the screen by a user rolling the ball with their thumb, fingers, or the palm of their hand. There are usually one to three buttons next to the ball, which are in the same way as mouse buttons.
The principal advantages of trackballs over mice is that since it is stationary, it requires less space to use, and it can be operated on any type of surface, including the user's lap. These attributes make a trackball particularly suitable for use with portable computers, and they were widely used on laptop PCs before the advent of the touchpad. A further benefit is that because there is no need to physically move the device around, they offer ergonomic relief from Repetitive Strain Injury (RSI) and Carpal Tunnel Syndrome (CTS).
Like traditional mice, trackballs can be communicate with a PC through serial or USB connections, or in the case of wireless mice, via infrared or radio frequency.
The result of more than four years' research in the 1990s, the principle of Logitech's Marble Optical Technology is based on the optical measurement of movement, whereby a camera assesses the degree of shift between successive snapshots. Like Microsoft's IntelliEye technology, the system essentially functions in a similar way to the eye, with the entire evaluation taking place within the sensor.
When the user rotates the patterned ball of a Marble trackball, an image of the ball, illuminated by a pair of LEDs, passes through a lens focused on the Marble sensor, where it is sampled 1000 times per second. The sensor is composed of 93 small cells working independently as a neural network. Each of them can detect a unitary motion by sharing information with its direct neighbours, similar to the way a human eye operates. The sensor then computes the average of the displacement returned by all these individual cells for successive samples and passes this information to a microprocessor in the trackball. This transmits this information to the host computer, either via a cable or a wireless communications protocol in the case of a cordless device. The trackball driver software then renders the cursor on the screen.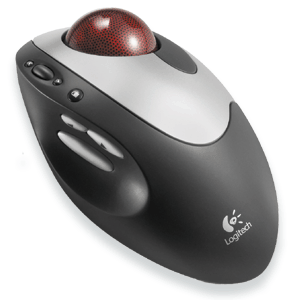 This system of collective computation makes for a highly reliable system. If any part of the sensor is obstructed because of dirt on the window, a scratch, or any other reason, the impact on the result of the collective calculation will be negligible. The system is also very independent of the light quantity or uniformity reaching the sensor ball, further increasing its robustness.