The term handheld computer has been applied to a wide range of portable electronic devices over the years. Its origins can reasonably be traced back to the handheld electronic calculators which first emerged in the early 1970s. These were to lead to devices which boasted more than the usuals electronic calculator functionality, The first integrated organiser device appearing in the late 1970s, adding the ability to store phone numbers and simple memos.
However, it is generally accepted that UK technology company Psion defined the PDA genre with the launch of its first organiser in 1984. At 142mm x 78mm x 29.3mm, and the weighing 225 grams, the Psion 1 was narrower than a large pack of cigarettes and slightly longer and thicker. Based on 8-bit technology, it came with 10K of non-volatile character storage in cartridges, two cartridge slots, a database with a search function, a utility pack with math functions, a 16-character LCD display, a clock/ calendar. The optional Science Pack turned the Psion into a genuine computer; capable of running resident scientific programs and being programmed in its own BASIC-like language, OPL.
The Psion 1 was superseded by the Psion II, and between the mid-1980s and the early 1990s, 500,000 Psion IIs were produced. Many of these were commercial POS (point of sale) versions that did not include the standard built-in organiser functions but ran specialised applications. The three main types were the CM, XP and the LZ, and came with varying ROM/RAM/Display sizes. The LZ was the highest specified version, with 64K of ROM, 32K of RAM and a 4×20 character display.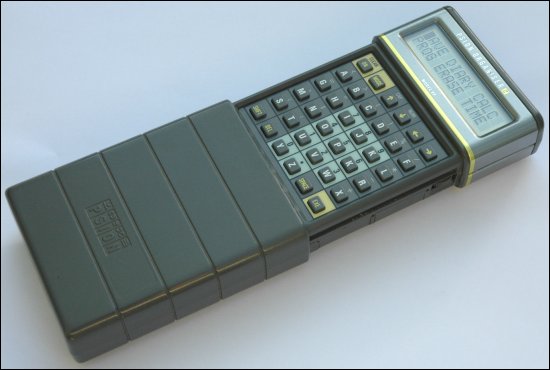 The Series 3a, launched in 1993, and based on 16-bit microprocessor technology represented the second generation in Psion's evolution. Housed in a case that looks remarkably like a spectacle case and opens up in a similar way to reveal a 40 characters x 8 line mono LCD and 58-key keyboard in the base, the Series 3a broke new ground with its ability to link to a desktop PC and transfer, convert and synchronise data between the two environments. For a couple of years, Psion's domination of the PDA market was assured, and the success of the 3a was built upon by the more powerful Series 3c and the third generation 32-bit Series 5, launched in 1997. The Series 5 boasted the largest screen – 640×240 pixel, 16 grey-scale – and keyboard of any PDA to date, but this proved insufficient to prevent Psion losing its leadership position in the PDA market to the 3COM's ground-breaking PalmPilot range of devices.