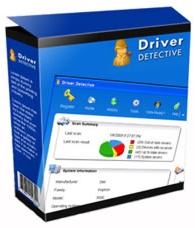 Updated review for the latest Driver Detective version in 2015
PROS: Driver Detective is very easy to use. It has a quick installation process and is one of the highest rated driver update software packages on the market.
CONS: Some of the devices that our expert had installed were not detected as being up-to-date, but his computer is a custom build and not a stock computer.
OVERVIEW: The truth is Driver Detective has a user friendly interface, quick scan times, and no noticeable impact on system performance. You will be able to install it in no time. With this said, some reviews seem to hype this product out of proportion and make it look like it will solve most PC problems which it will not.  If a out dated driver is a problem this will resolve it.  If that is not you problem this software won't help you.
Company: PCDrivers
Supported OS: Windows 7, Windows 2000, 2003, XP, 2008, Vista, 7, Windows 8
Price: $29.95 per 1 year license ($39.90 for 2 year license)
Driver Detective  Video Review
» Download Driver Detective Here
Driver Detective  Review
What It Does:
Driver Detective uses an extensive device driver database to locate, download and install correct device drivers for your computer.
Installation:
The installation of Driver Detective was quick and painless.
Details:
After starting Driver Detective, the user is prompted to either scan their computer or exit Driver Detective if they are running an unlicensed, unregistered version. With the paid version, the user does not see this prompt.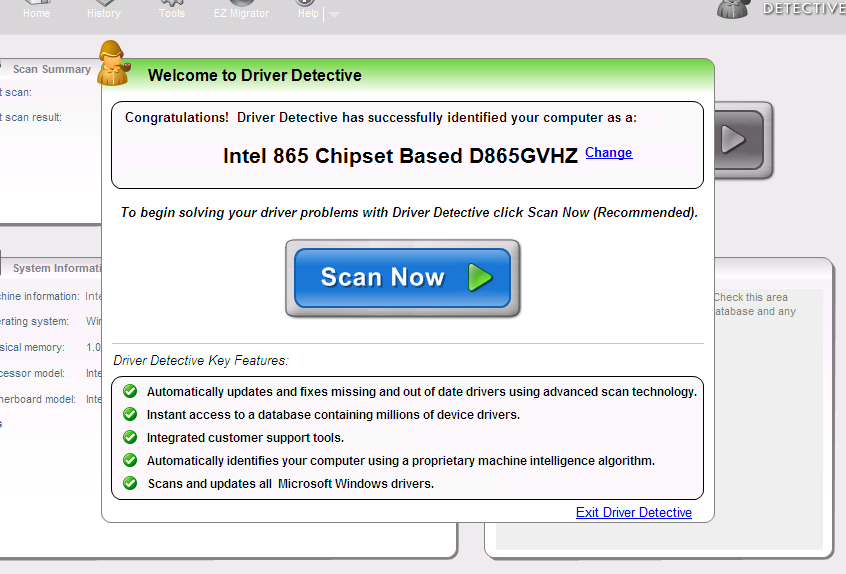 The scantimes are relatively quick and take just over a minute, but sometimes less, depending on system specs and the amount of drivers installed. Anything that displays as either a system driver or a device with no driver is not updated. Devices with no drivers are devices that Driver Detective has found during the scan, but there are no known drivers available. In this case, it's usually best to contact the manufacturer of the device you're using to see if there is a driver available.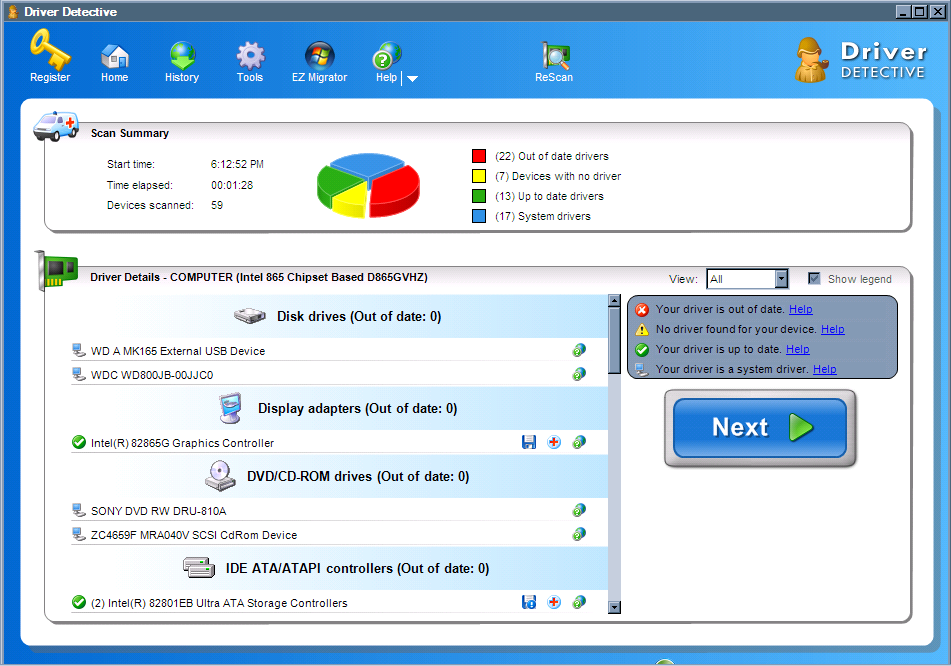 Selecting the "Tools" button at the top allows the user to make selections involving the detection and matching of drivers, internet settings, download folders, alternate information, unplugged devices, and Microsoft's driver list. Driver Buddy is an optional feature that makes it easier for novice users to automate most of the tasks that they would otherwise do manually. The System Restore tool activates Windows System Restore in case of an emergency, such as bad software installation that adversely affects the operating system.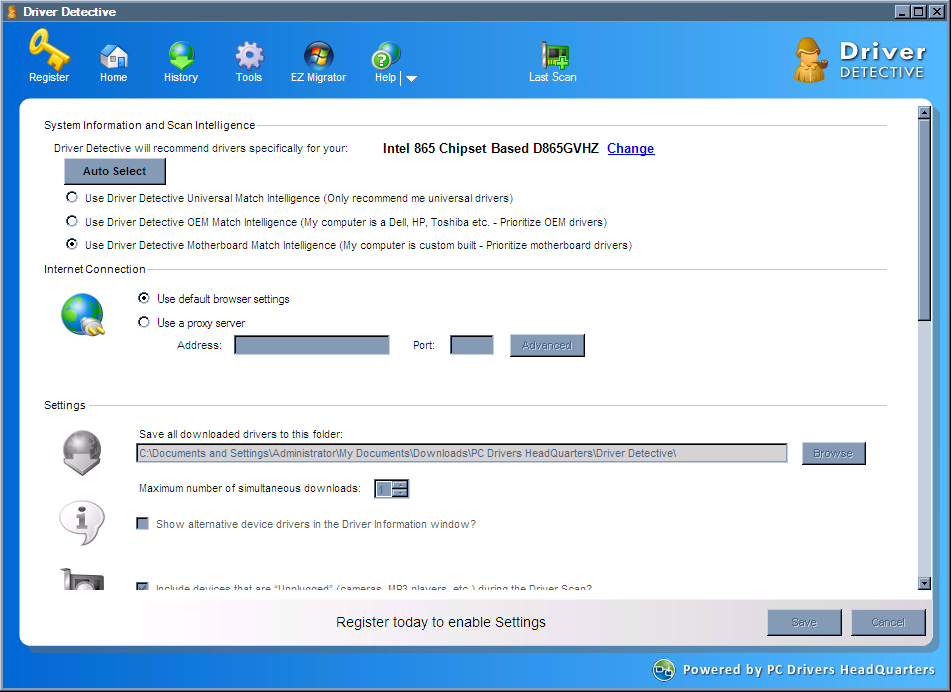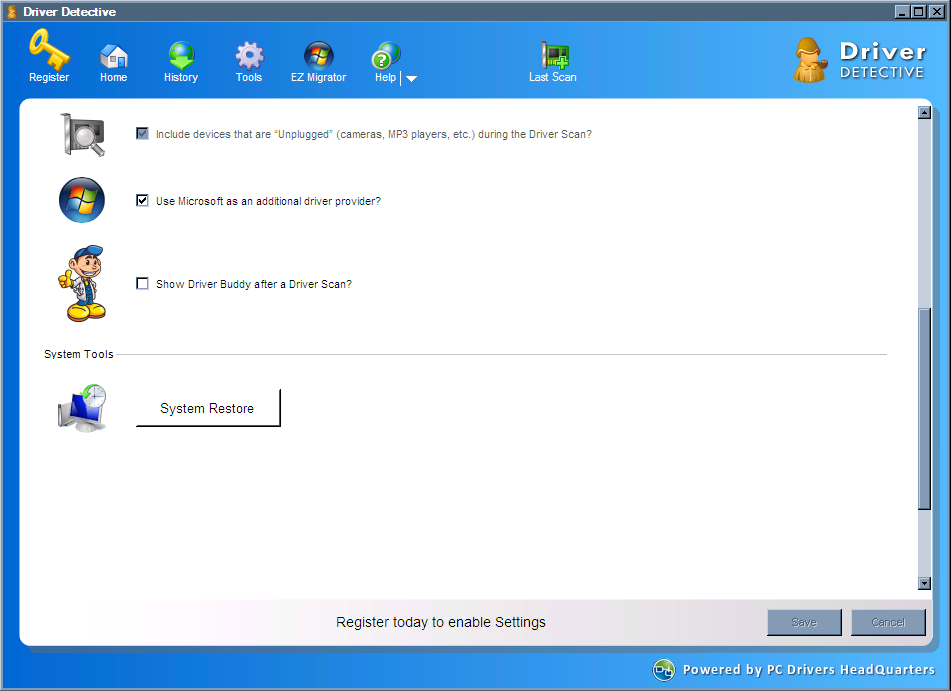 The Easy Migrator feature (right next to the "Tools" option) helps the user by detecting hardware and downloading the appropriate drivers for an operating system of their choosing. This is helpful for users who simply wish to automate downloading of the most current drivers without having to worry too much about which drivers are designed for what operating system.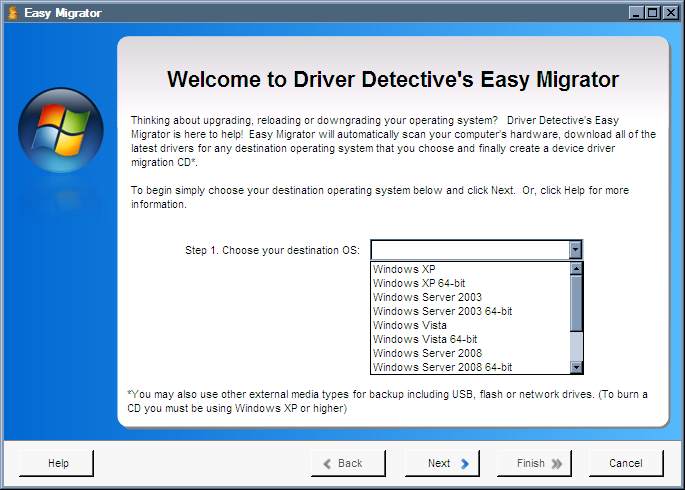 After a full system scan is complete, the user can sort out what driver information to display. Those drivers that are out of date can be downloaded by clicking on the floppy disk icon pictured next to the listed driver. From there, the user has the option to install the drivers via Driver Detective. After the driver is installed, Driver Detective asks the user if the device is working properly. If the device is working, then it ignores the device on the next scan.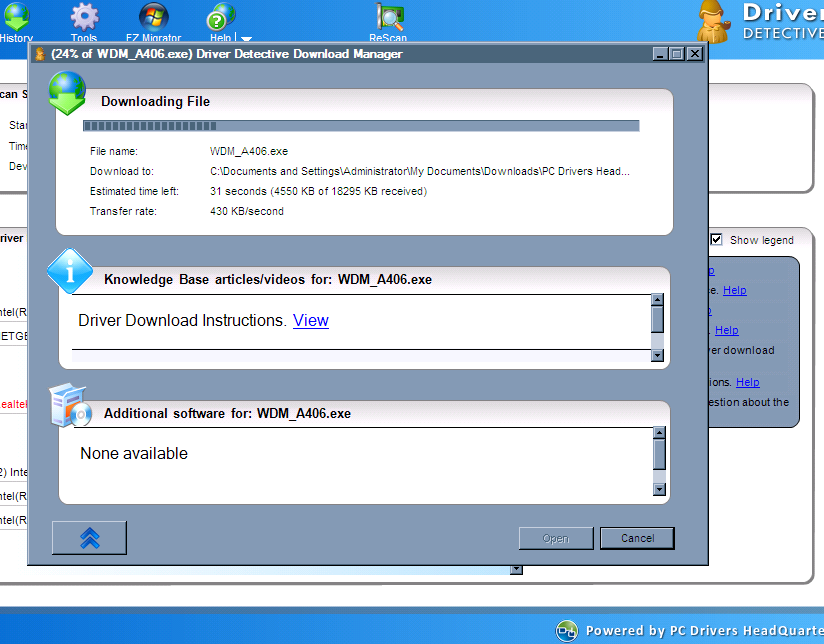 Ease Of Use:
Driver Detective was quick and easy to use. It's simple enough that a novice user could operate the program with relative ease.
Summary:
The installation was quick, the interface was easy to use, the scantimes were quick, and with no noticeable impact on system performance. The only problem I found was that some of the devices that I had installed were not detected as being up-to-date. After downloading several device drivers and attempting to install them, several informed that some of the driver(s) were more current than the ones that were attempting to be installed. Given that the computer in question is a custom build and not a stock computer, I don't reasonably expect any and all drivers to be correctly detected. However, I would recommend this as a general purpose application for novice to intermediate users interested in having properly updated drivers.