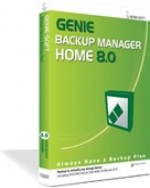 PROS: Very easy to use data backup program that offers remote backup features and full image backups so you can recover quickly when hard drive failure hits
CONS: Waiting on user feedback because we have none! This software simply rocks.
OVERVIEW: It's hard to find such an easy and straight forward tool. An in-experienced person should be able to master this program with out too much difficulty. Advanced users will like the extra features while people who just want to quickly set an auto backup up will have no issues diving right in.
Genie Backup Manager Review
Program: Genie Backup Manager 8.0
Company: Genie 9
Supported OS: Windows 2000, XP, Vista, 7
Price: $49.95
Purpose:
Genie Backup Manager Home offers an ideal solution for the home user that is looking for a simple and friendly way to backup personal data to a safe location and be able to retrieve them easily.
Installation:
The installation of Genie Backup Manager took about 2 minutes, and required no reboot.
Details:
On startup, the splash screen is displayed, which allows the user to view tutorials and information on how to use Genie Backup Manager. It also displays various tips.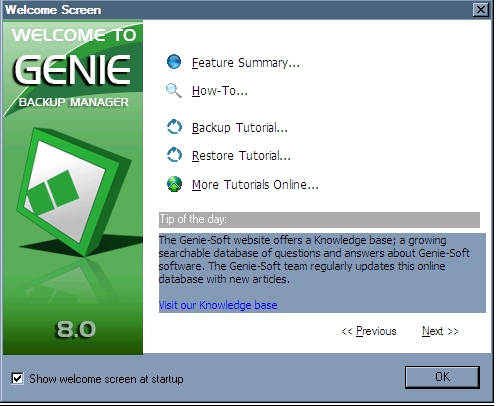 From the main screen, we have the option of making backups, restoring backups and disaster recovery. Disaster recovery is used to make a bootable CD/DVD and aids in the use of recovering data from a failed hard drive.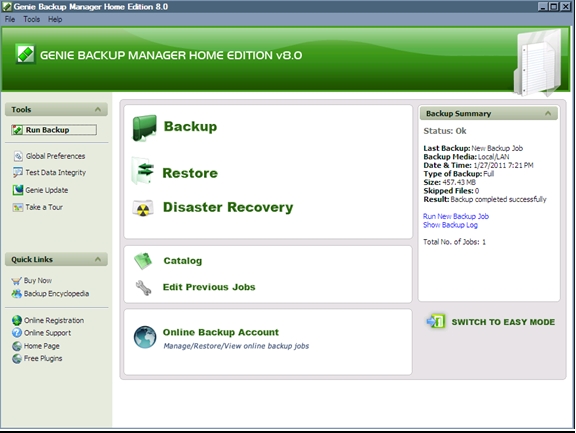 After choosing the "Backup" option, we are given the choice to either create a new job or edit an existing one. Since we don't have one to edit at this point, we'll create a new one instead, and use the default naming scheme.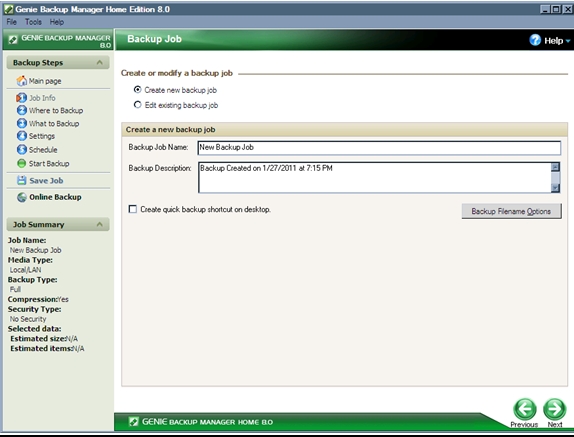 The next step is to choose a destination of where to store the data. The online backup scheme is for paying customers, but isn't the only option to store data online. If you have an FTP server, that can be used. For offline storage, you can use a Local/Lan location and various removable media devices in addition to burning the backups to CD/DVD.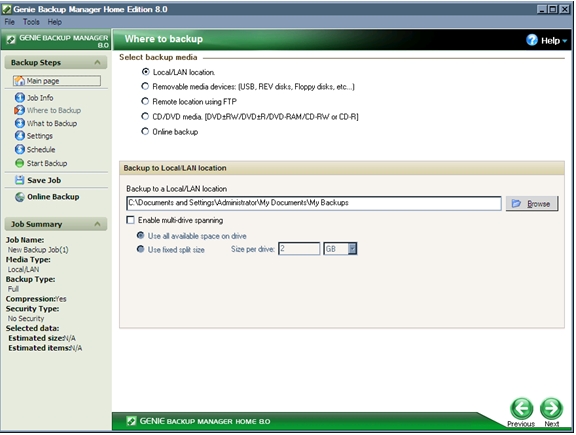 The next step in the backup process is to choose what data to save, and there are a lot of options to pick from. If a user were to select all of the options, it would basically make a general backup of most of the major windows settings and personal files.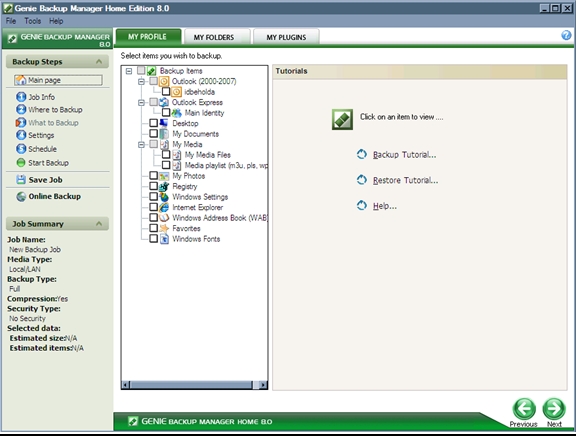 After clicking the next button at the bottom right-hand corner of the screen or selecting #4 from the steps on the left, the "Settings" screen appears. The user is presented with the type of backup they'd like to perform, what kind of compression should be used on the archive, and any security features that should be used.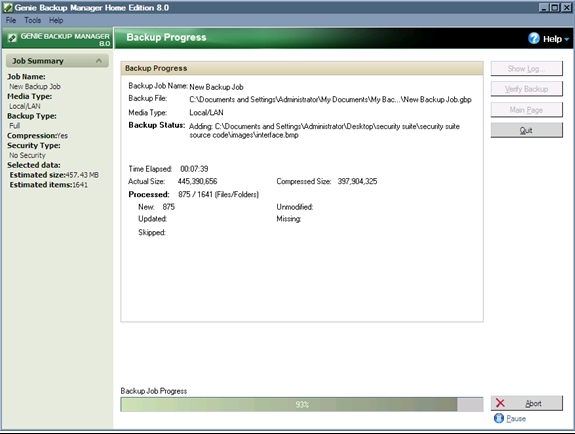 The backup process was fairly easy. With the different levels of compression that could have been used, I opted to use default compression scheme. The entire process took about 8 minutes for approximately 460MB worth of data.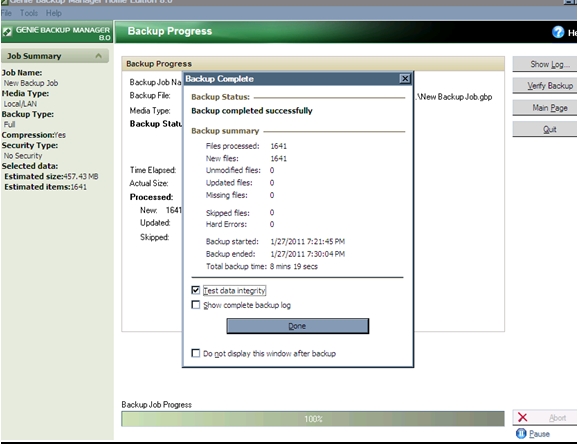 With the backup finally complete, a small box detailing various statistics of the process are displayed, and the user is given the option to test the data for integrity.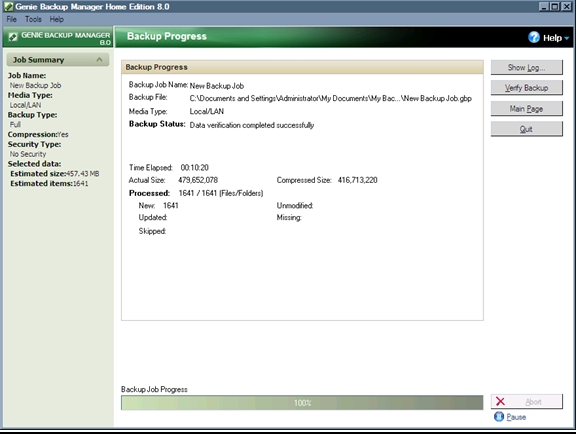 Once the optional data verification process is complete, a new list of stats are displayed. On the right hand side are more options, which include going back to the main screen or shutting down Genie Backup Manager.
Ease Of Use:
Genie Backup Manager is fairly easy to use, although it might be a little bit confusing to a novice. I would say that this application is geared more towards intermediate to advanced users.
Summary:
While Genie Backup Manager seems to be focused primarily on intermediate to advanced users, its still fairly easy to use. The option to use compression on large backups is a definite plus. Not only does compression save hard drive space, but it can also make the difference between choosing to burn to CD or DVD. If the user would like to store their data online, they can either do so through Genie 9, or onto their own personal web server. Although the price and the installation size may put some off, Genie Backup Manager has a lot of nice features that are seriously worth looking into.